During the last 90 days, which types of digital magazines have you read?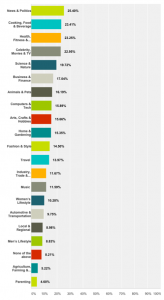 If we had to choose two words to describe the Mequoda Method, the first would be "multi-platform," which, as Don wrote recently, is the new normal for digital magazines years after we staked our brand on it.
A close second would be "niche."
Why? Because with tens of thousands of digital magazines available to consumers, you must focus on audience development to attract the right readers, earn their trust and attention, and then convert that trust and attention into subscriptions, one-off purchases of products like white papers, event attendance, social media shares, and other sources of revenue.
So, how do you further focus that focus? Which niches are the most popular with readers? We had the same question, so we asked them. We asked 3,642 U.S. adults with Internet access, as a matter of fact, and in our final post to reveal stats from our 2015 Digital Magazine Market Study, we're sharing the answers with you.
When it comes to favorite magazine categories, news, cooking, fitness, and celebrity top the charts.
You can see the full results in the graphic at left!
As recently as June, we've seen industry coverage of digital magazines embracing niche publishing as a path to victory. Digiday profiled Sneaker News, which boasts 4 million uniques and 30 million views per month.
"The growth of that hardcore fan base has opened up opportunities for sites like Sneaker News, which are aimed at not only keeping fans abreast of new announcements, but also keeping them constantly updated on when things go on sale. A quarter of the traffic to Sneaker News goes to its sneaker-release calendar, which, [Editor-in-Chief Yu-ming] Wu says, readers check as often as once an hour," Ricardo Bilton wrote at the time of the 5-person staff producing 35-50 stories per week.
"It's a familiar formula these days. While the likes of BuzzFeed and Vox Media aim for scaled audiences with broad fare, sites like Sneaker News (and, in the watch space, Hodinkee) are going deeper on specific beats in an effort to own smaller, more passionate audiences. … 'From the beginning, the idea was to make something that operates 24 hours a day. Whenever something is coming in, we want to have something to say and publish it immediately,' Wu said.
The theory behind both the frequency and speed of Sneaker News's posts jibes with other findings from our study: Readers want immediate content, and they want a certain number of articles per issue.
Looking for even more findings? We've got'em! Download our free 2015 Digital Magazine Market Study today!