Agora Financial Network: Understanding the Seven Strategies that Drive the World's Most Successful Special-Interest Website Network
The Mequoda Group estimates that the Agora Financial Network will post top-line revenues for 2006 of $55 million, with $41 million being generated online. This makes each of its 500,000 domestic subscribers worth about $82.
Like all Mequoda Marketing Systems, the Agora Financial Network offers both the Daily Reckoning website and email newsletter absolutely free. The organization makes all that money by selling print newsletters, books and events to the Daily Reckoning website visitors and email subscribers.
Introduction
The Daily Reckoning is the lead case for the Mequoda Research Team and a best practice example of a successful Mequoda Internet Marketing System. With the Daily Reckoning, Agora has created and executed the most effective online direct marketing program of any publisher on the planet and has become the premiere example of a high-performance, integrated media company.
Perhaps most impressive is that the Agora Financial Network is but one of five domestic Mequoda Marketing Systems operated by Agora, Inc. with total revenues estimated to exceed $200 million for 2006.
Agora Financial's Free Email Newsletters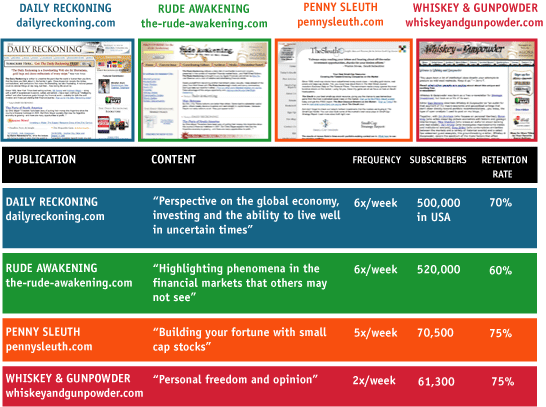 (Source: Agora Publishing)
We sat down with Andrew Palmer, Director of E-Commerce/Web Marketing for Agora Financial, LLC, to discuss the latest triumphs of the Agora franchise. In this report, Mr. Palmer reveals some of the many innovative techniques that distinguish Agora's overwhelming success as a media empire and hints at where the company is headed in the future.
[text_ad]
Mr. Palmer manages Internet sales and marketing for all of Agora Financial's publications and premium services. He was brought in during early 2000 to create a web vehicle for the direct response financial publisher and has done so very successfully, primarily via the Daily Reckoning email newsletter.
1. Core Strategy: Audience and Purpose
As a multimedia publishing company, Agora Financial considers itself "the premier source for independent and unconventional financial advice and analysis."
It boasts on its corporate website, "It's our firm belief that the only thing you need to make money in this market is an open—but critical—mind. That's why we've gathered some of the world's finest investment minds working today to help you make sense of—make money in today's topsy-turvy markets.
"Each of our services covers a unique aspect of the market—from value and growth stocks to natural resources and options. But each is characterized by a unique skepticism toward the fads and fashions of Wall Street brokers and Washington bureaucrats."
2. Business Strategy: Products, Branding and Revenue Models
Agora Financial products account for 75 percent of Agora Financial Newsletters' total revenue. Its best selling paid newsletters include Penny Stock Fortunes, Fleet Street, Strategic Investments, and Outstanding Investments, which are its four main feeder publications. Each is priced at less than $100.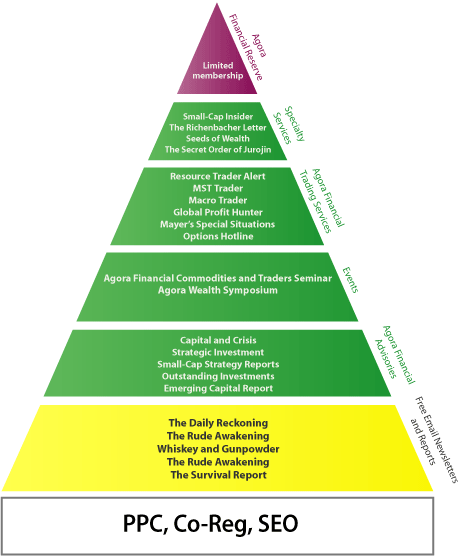 Agora Media Pyramid
Other backend, premium products include AGORA Financial Trading Services, an options trading service that uses three well-known indicators to trigger triple-digit profit; Options Hotline which delivers outstanding stock option picks with huge profit potential whether the market is up or down; and Resource Trader Alert an email and fax service specifically designed for investors who want to take advantage of fast-moving and more speculative commodity investment opportunities. These range in price from $750 to $1,200 annually.
The top-end, premiere product is Agora Financial Reserve, a membership program that provides access to Agora Financial's finest analysts, research, books, reports, conferences, plus 10 trading services and advisories, currently available at a one-time cost of $4997 ("plus a modest $149 annual maintenance fee"), according to the website.
"The Agora Financial Reserve gives you the option to get everything we have, which in business terms is taking a zero value name, making it into a $49 name, and then converting it to $5,000. So instead of waiting for the lifetime value of that name to be $5,000, we monetize it upfront," Mr. Palmer said.
Events and conferences are additional Agora Financial profit centers. This year's keynote speaker at the Agora Wealth Symposium was Forbes magazine publisher Malcolm Stevenson "Steve" Forbes Jr.
The importance of the Daily Reckoning brand
"We're not just a business, we're a community. People buy our products because they recognize who our editors are, and that there is value in our products," Mr. Palmer said.
"Agora Financial is our uber brand, but we don't market Agora Financial, we market the Daily Reckoning, because we want our customers to come in, free, from the Daily Reckoning," Mr. Palmer explained.
Note: The word uber comes from the German language. In our context, uber site means overall, umbrella or brand. During the late 1990's, uber became a hip, trendy synonym for super; i.e. ubercool=super cool.
"We've been doing a serious press release campaign, using press releases to drive traffic to the Daily Reckoning website. And we send the press releases from the Daily Reckoning, not Agora Financial. The Daily Reckoning is the brand, not Agora Financial."
The Daily Reckoning brand has not been extended to Agora book publishing, however. Empire of Debt a New York Times bestseller by Bill Bonner and Addison Wiggin, features the Agora logotype on its dust jacket, as does The Demise of the Dollar… and Why It's Great For Your Investments solely by Mr. Wiggin. However, Agora uses the Daily Reckoning to promote Empire of Debt and the book itself to promote the Daily Reckoning.
With 500,000 Daily Reckoning subscribers in the United States alone, Agora has the capacity to create its own hard cover bestselling books almost instantly.
"A publisher looks at us, with our 500,000 readers, and knows we're going to sell it to those subscribers first. We're going to become an Amazon bestseller and a BN.com bestseller and a New York Times bestseller, and then they can roll out the book for retail sales," said Mr. Palmer.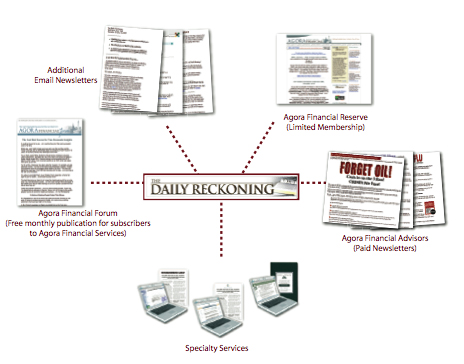 The Daily Reckoning Brand Wheel
Subscribers generally buy a paid product within 90 days…or else!
In any 12-month period, one out of four subscribers to a free Agora Financial email newsletter eventually buys something, Mr. Palmer says.
But after 90 days, if a subscriber has not clicked back to an Agora marketplace website to buy or at least consider an upsell product, that subscriber is dropped from the list and must resubscribe in order to continue receiving the free mail newsletter.
"I can prove, with buying curves, that my worst producing name, if it doesn't buy in three months, is not going to," said Mr. Palmer. "A good name is going to buy immediately. A good name could buy immediately from the welcome letter. A lesser quality name will normally take about three months to ramp up.
"And when it hits that three-month mark, we start this non-activity gauntlet. If they are still reading at that time, they just click a link that says they're still interested and still want to get the publication. If not, they're just gone. At that three-month time period is when we know that, if we've romanced you, if you're reading on this day, you'll become a buyer.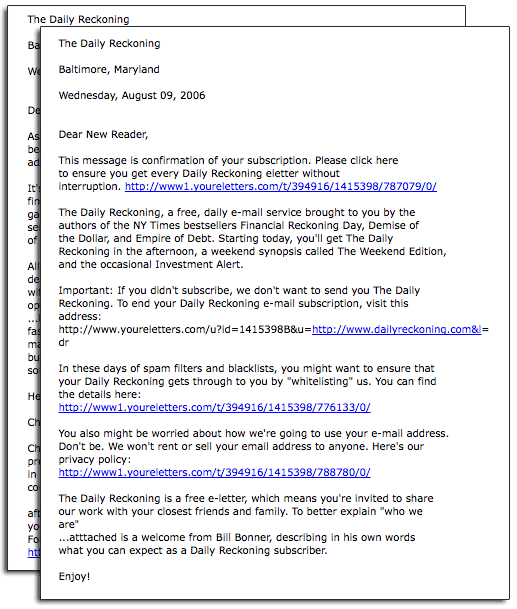 Example of Non-Activity Gauntlet Letters
3. Website Network Strategy: Content and Conversion Architecture
DailyReckoning.com may be the hub of Agora Financial's online marketing efforts, but the company takes a unique perspective regarding its website(s). It doesn't focus much on DailyReckoning.com or on creating one that's big or grand or screaming out at visitors with the latest bells and whistles.
Rather, Agora's web strategy is to concentrate on the site's landing pages, which are optimized for search engines, its microsites, which highlight specific products and the free e-letters, which create a robust community for the company and, in turn, drive traffic to the microsites for product sales.
"AgoraFinancial.com is an uber site," Mr. Palmer said. "It is the gateway to all of our paid publications, whereas the Daily Reckoning doesn't have sales as a primary purpose. This is where our website sales are coming from. It is a marketplace site. We're getting tremendous sales from it."
Nevertheless, there are actually two, quite similar Agora gateway marketplace websites, both with tabbed architecture along the top navigation panel.
First there is the DailyReckoning.com homepage, which functions as an article index landing page. Its tabbed architecture, left to right, links to Archives; Media, Events, Columnists; Gold Links; Discussion Board; and Search.

And then there is the AgoraFinancial.com homepage, which is the marketplace site.

Its tabbed architecture, left to right, links to About Us; Media; Newsletters; Premium Services; Free Services; Specialty Services; Events; Search; and Contact Us. However, the Media tab redirects to the DailyReckoning.com site, where press releases and audio interviews are archived.
The inconsistency in the way these tabs perform is disruptive because it bounces the user back and forth between two sites, when she simply expects to move between pages on the same site. Roxanne O'Connell, our Mequoda usability expert, calls this "highjacking." The resulting cognitive dissonance diminishes the user experience.
Mequoda applauds Agora's attempt to combine all its offerings under one, overall, umbrella website. But we would recommend using a single uber site at which the Daily Reckoning newsletter is the first tab, and the tabs that sit behind it are the marketplace sites and the brand sites—books, events, etc.
There should be one set of unified navigation tabs that enable the user to find all pages that are part of the Agora Financial network. Not two sets of tabs that occasionally bounce the user back and forth between two sites.
Where are the topic pages?
We presume that users of the Agora Financial website—serious investors all—would like to be able to explore the various offerings by topic, such as "gold investing." But Agora continues to follow what we consider to be an arcane best practice of placing its "old" content onto an archive page. The addition of 15 or 20 topic pages—equity investing, gold investing, real estate investing, etc.—would also function as search-engine-friendly gateway pages. Each of these topic pages would be a subset of the archive.
This change is easy to execute. It simply requires deciding what the "topics" ought to be. The Mequoda best practice example is the Johns Hopkins Health Alerts homepage, which organizes content under 13 categories or topic pages. If someone is interested in arthritis, all the Johns Hopkins Health Alerts information is concentrated under that heading.
A topics page is another name for what Mequoda calls a Directory Landing Page, which is designed to attract traffic. It should include conversion architecture that urges the user to take the next step in the transactional process using order forms in editorial (OFIEs) or hypertext links to order forms.
The topics page, or directory landing page, is important because it addresses the need of the user to find information easily. It is also vital to the business of the website, because it's a virtual search engine magnet. It enables displaying all the direct keywords in the teaser or snippet copy, and all of the keywords related to a topic, and concentrates them under a single topic page.
This is the challenge of creating a "legacy" system, or content archive, that is designed specifically for search engine optimization. It is the equivalent of a newspaper that is organized by individual sections for news, sports, business, comics and classified, etc.
In all fairness to Agora, the founders probably never considered this when launching their highly successful website, because in the early days of online publishing, no one knew what a search engine was. We suspect that in 1999, when the Daily Reckoning began, when there was only a single archive page, no one was thinking about the long-term implications of infrastructure.
Now, after an estimated 20,000 articles have been published in the Daily Reckoning, sorting this enormous amount of content into topic pages might be a daunting task. It would probably require an experienced software architect to engineer it. One approach: decide on the 20 or 30 topics and then make each one, and the two or three keywords associated with it, a separate page of internal search engine results. That way, the topic page would be built on the fly each time a user does a search. Effectively, the topic page would return a chronological sort of articles for each keyword search.
With an estimated 20,000 articles, Daily Reckoning topic pages would be remarkably search-engine-rich. Given the age of Daily Reckoning because it is an old, deep, rich website, these would be highly indexed by Google, Yahoo, MSN and the others.
Agora is continually testing different types of landing pages, driving pay-per-click traffic alternately to a white paper, a sales letter landing page, or a free email newsletter offer. Agora does considerable pay-per-click advertising, strictly in support of its direct mail advertising, because of the inherent synergy between them.
4. Audience Development Strategy
The Daily Reckoning is the Mequoda Internet Hub for the Agora Financial Network. It continues to be the flagship free email newsletter of the Agora Financial group. With more than half a million subscribers in the United States alone, it offers what it characterizes as a "uniquely refreshing perspective on the global economy, investing and the ability to live well in uncertain times."
The Daily Reckoning is the gateway into a business relationship with Agora's customers. Agora learned early on that providing a wealth of free information to a group of thoughtful, affluent investors would create an opportunity to eventually sell profitable information products to a reasonable number of them.
The business model Agora created with the Daily Reckoning now has been successfully duplicated for all of Agora's sister companies and publications. Mr. Palmer has further expanded his company's model to include several additional free email newsletters.
Since Mequoda last examined the Agora franchise, they have made its four principal free email newsletters completely separate from each other. Each has its own website, each is its own profit center.
In addition to the 500,000 subscribers to the U.S. version, there are also separate United Kingdom, French, German, South African, and Australian versions of the Daily Reckoning, with some overlapping content but frequent differences that make each publication as personal as possible. Each has a separate subscriber file.
All the Agora free email newsletters are delivered in plain text, eliminating the additional step of having a coder create them in HyperText Markup Language (HTML). Editors can write and load their own content.
This results in a very subscriber-friendly product. There are no busy graphics. The newsletter is linear. The reader does not need to decide whether to read the right column first or the left or top or bottom. She starts at the top and keeps reading straight down the page.
"And it (text only) is subconsciously saying that this is good quality copy; it needs nothing more," said Mr. Palmer.
Agora Financial's Free Email Newsletters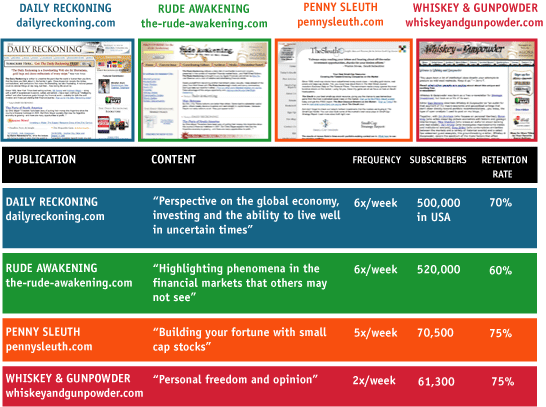 (Source: Agora Publishing)
Mr. Palmer oversees all of the Agora Financial publications. "It's my job to see that they are profitable and that the lists are growing," he explained.
Agora uses four methods to bring in new subscribers to its free email newsletters:
Pay-per-click
Co-registration
Buying endorsements on other lists and websites on a CPM basis
Search engine optimization
The publishing company knows how to repurpose its content. The Daily Reckoning frequently creates white papers (authoritative reports on major issues) from its previously published newsletter articles. Those products, when published on DailyReckoning.com, become highly visible to the search engine spiders, resulting in high returns from organic search.
"Let's say an investor is surfing the Internet and comes across a Daily Reckoning white paper (e.g. Investing In Water—A Daily Reckoning White Paper Report). If he says 'this is tremendous, I want more of this,' he'll sign up for the Daily Reckoning," Mr. Palmer explained.
These Agora white papers are created specifically for finding new subscribers via organic search. Mr. Palmer is able to measure exactly how many new subscribers are generated from each white paper every month. He can track each white paper and make accurate revenue forecasts based on its popularity. Each is considered an annuity that continues to generate new business every month.
"So a new subscriber comes to us from Investing In Water and is being introduced to us by the Daily Reckoning. That's his front door. He has a value of zero right now, but he starts to read the Daily Reckoning. With any luck, he will convert to one of our paid publications. That's what the Daily Reckoning does."
How long does Agora wait before trying to make a paid sale?
"On his confirmation screen and in the welcome letter, the new subscriber is getting an upsell, usually for a $39 print newsletter," Mr. Palmer said. "And now when he logs in every day, he is exposed to our entire offering of (135 discreet) paid products."
5. Customer Contact Strategy
"Five times a week," explains Addison Wiggin, Agora Financial's publisher and editorial director, "we send out two free email newsletters: the Daily Reckoning in the afternoon and the Rude Awakening in the morning. We also have a weekend edition, which ties everything together once a week." The editors who manage and write Agora Financial's five print newsletters—as well as Mr. Bonner himself—contribute to the two free e-letters.
"The e-letters offer a very unique look at the way the financial markets work," Mr. Wiggin continues. "We analyze the day's financial news, our own editors produce independent research, and we wrap it all up in a rather opinionated style." He describes that approach as "the lens through which we view the financial markets and pass along the news of the day."
The purpose of the Daily Reckoning e-letter, according to Mr. Wiggin, is to entertain, educate and maintain a specific audience—typically male investors, in their late-40s to mid-70s—who have mastered a certain financial skill. Independently wealthy for the most part, these folks seek opportunities for managing their own money and trading aggressively but appear skeptical of mainstream money-management and Wall Street brokerage firms. The Daily Reckoning presents an alternate source of financial advice to this audience. The DailyReckoning.com website, in turn, becomes the vehicle through which that well-heeled audience migrates to linked retail sites to purchase products.
The publishing company clearly understands 12-month return on investment and the lifetime value of a customer. Therefore, it doesn't need to get a dollar back, on Day One, for a dollar spent. Depending on the campaign, Mr. Palmer is willing to take an initial 40 cent return on a dollar spent—if there is a sufficient backend profit.
"We're looking at everything we do as if it were direct mail," Mr. Palmer said. "So if we have a good feeder publication, we're willing to mail at a high rate, knowing that we'll bring in money with backend sales. We'll sometimes mail something in print at 50 percent of break even.
"Why wouldn't I apply that strategy to pay-per-click or some other type of Internet promotion?" he asked rhetorically. "That's what we do, whether it's pay-per-click advertising, or buying space ads on the web, or renting email lists (sponsorship in another publisher's email newsletter or a dedicated solo mailing), it's the same idea," he said.
Agora is not afraid of competing with itself. So, while other publishers recognize that there are probably more than 500 newsletters competing for a reader's attention, they may stop promoting after they sell the customer a single subscription. Mr. Palmer does not. He is happy to publish and offer not just one, but three or four additional free email newsletters to the same customer, in effect, competing with his other publications but creating additional opportunities to capture a subscriber's name and maintain an online relationship with him.
There is "extreme" crossover, he says, with many people subscribing to more than one of the Agora free email newsletters. Mr. Palmer tracks the profitability of each individual list, even though a single subscriber's name may appear on several lists. Surprisingly, revenue per thousand subscribers is about the same, despite so many of the same names appearing on multiple lists.
Lively content that engages readers
The Daily Reckoning's lively writing style is practically in a category by itself. To say it's informative without being stodgy doesn't do it justice.
All the writers (not only Mr. Wiggin and Mr. Bonner) have an enviable knack for being both factual and whimsical. Sometimes objectively descriptive and often brutally judgmental, it's always a good read.
Topics range from investments and politics to vacationing in Argentina and the pleasures of French wines.
A few recent examples:
"Watching the news is a bit like watching a bad opera," say best-selling authors Bill Bonner and Addison Wiggin. "You can tell from all the shrieking that something very important is supposed to be happening, but you don't quite know what it is. What you're missing is the plot."

"The remarkable events in the last few days have been greeted by the market, not with shock and awe, but with such a coma-like indifference that we feel like holding a mirror under its nose and taking its pulse."

"Hundreds of cities are built on top of aquifers because that's where the water is. You can suck it out of the aquifer like a kid in summer slurping juice from a water ice. But that water, like all overtaxed resources, can't last forever."

What is an old man but a pile of fading leaves? Like pages from a diary, falling off along the way. Every day the pile grows bigger…while the tree becomes more naked. More fragile. Like old, weathered wood…with withered limbs. Finally, the last leaf falls…and he has nothing but his memories."
Traditionally, writers (and their publishers) are afraid to include opinions in their articles. The Daily Reckoning says upfront: "We have opinions, and we're not afraid to give them!"
Basically, the e-letters cover macro trends that are being played out every day, and the writers try to explain actual events in that context.
"Recently, for example, when the big bank in China was trying to buy Unocal," Mr. Wiggin explains, "we reported on it in terms of themes that we had been developing over the last five years. We do that on a daily basis, and nobody else in our industry does anything close to that sort of analysis in a free, online newsletter."
Agora Financial reserves other valuable material for its paid subscribers. The tone and style of the articles in the print newsletters, which are published monthly, are quite different from the daily commentary in the free e-letters. While the same writers may comment on daily news, their articles in the paid newsletters are largely fresh material consisting of stock picks and investment strategies, for example, and ways that readers can actually take action on the various editors' positions.
6. Organizational Strategy
The support team for all the Agora Financial email newsletters includes Mr. Palmer, plus a database administrator, a graphic designer, a network technician and a customer service person.
There are four regular contributors to the Daily Reckoning, plus 20 other writers and editors at other Agora publications who occasionally contribute.
"We don't count Bill Bonner (the founder and president of Agora Publishing) and Addison Wiggin in our ROI, although both contribute content. We have a managing editor and an assistant who handle the editorial copy. For all of our other eletters—The Rude Awakening, Whiskey & Gunpowder and Penny Sleuth—we have virtually two people handling the editorial content," Mr. Palmer said.
"We started with two people in Baltimore and two people in Paris. What makes this a really home-grown business is that everything that needed to be done—we did it! We kept finding new ways of marketing and reporting and systems."
7. Reporting and Key Metrics
Mequoda Group estimates that the Agora Financial Network will post top-line revenues for 2006 of $55 million, with $41 million being generated online. This makes each of its 500,000 domestic subscribers worth about $82.
The Agora email newsletters are believed to have a 25-30 percent daily "open" rate, but Mr. Palmer does not give much weight to that benchmark, owing to the difficulty of measuring it accurately.
Mr. Palmer measures discrete retention rates. Someone who "unsubscribes" to one publication is considered an "expire," even though he continues to subscribe to another Agora publication.
"I always come back to the quality of the content," he said. "If you're sending out something good, people are going to read it. If you're sending out something else that's good in addition to that, they're not going to leave the first publication. I want to have the best content."
Mr. Palmer was reluctant to quantify the success of Agora's publications beyond saying that they are making "tens of millions of dollars" and that 75 percent of that profit is from online marketing.
"The web is just incredibly successful," he said.
Agora metrics at a glance
Here's what Mr. Palmer regularly tracks:
Total email subscribers
Total daily new names added to the file
Total daily online revenue
Total monthly online revenue
Total monthly revenue per subscriber name
Total monthly sales, by product, per subscriber name
A glimpse into the future
Public relations efforts, search engine optimization and affiliations also drive traffic to the DailyReckoning.com website—where, of course, the visitors sign up for the free e-letter. Seven analysts regularly participate in audio events on the radio, and a staff person is dedicated to repurposing content for keywords.
Agora Financial also has a syndication program, through which a couple of essays each week are sent to about 35 affiliated websites. And an editorial specialist reaches out to editors of other websites to encourage them to exchange content and/or co-register with DailyReckoning.com.
"We've been looking at different ways to bring people into our gateway. If you want to take this to the extreme, you take the book and make a documentary out of it. Then you get it released on PBS or CNBC television. You make your money back in DVD sales. It will become another viral marketing message. That's what we're doing now."
The next effort for Agora will be a Daily Reckoning blog—not for consumers but for journalists. Increasingly, journalists are looking to blogs and podcasts for the "buzz" on the latest investment news and strategies. Currently, several Agora editors do as many as two or three interviews daily.
The strategic intent is to increase traffic to the Daily Reckoning website from reporter's reviews of Agora products.
Driving traffic to the free email newsletter—that's the objective of all of Agora Financial Network's media sources and marketing channels.