Keep more revenue while offering a better customer experience by ditching the app and launching a web magazine
In our eyes, there are two digital magazine publishing software giants: Adobe and Mag+. When we work with publishers developing digital magazine apps for tablets, we recommend Mag+, a spin-out company that sprung from Bonnier Corp.'s very early Popular Science app.
We find Mag+'s digital magazine publishing software feature set and functionality are similar to Adobe, and also support our best practices such as content reflow and including HTML links and other interactive features. And Mag+ is simply more affordable for small publishers, both the base price and the entitlement price for downloading issues to clients' subscribers.
[text_ad]
But when you're developing a digital magazine app for a tablet, there are a few drawbacks:
You're paying a fee to the software provider for design and deployment
You're paying a fee to the digital newsstand for distribution
You need to design a different app for the different types of software (Android, iOS, etc.)
The content you publish may be confined to the app unless you've enabled features to share it
The content you publish in the app can't be found on the web (I'll explain why this matters later)
These restrictions look a lot like a physical magazine, don't they?
You're paying a printer to print your magazine
You're paying a distributor
You may be designing it differently depending on where it's distributed (internationally, for example)
The content you publish is confined to the printed page, unless you've added QR codes
The content you publish on the printed page isn't found on the web (unless you put it there)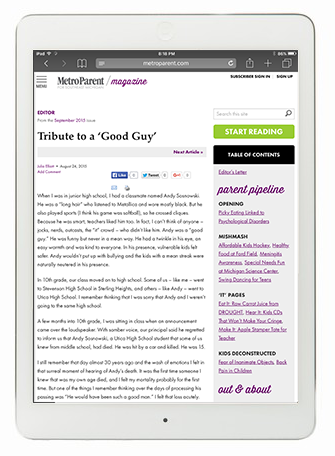 We find that the best way to add benefits to your magazine, while defeating these restrictions, is to create a web magazine.
A web magazine is developed in HTML and resides on your website behind a paywall. It may look and act very much like an application, however there's nothing to download, and it's not in the app store, it's hosted on your website.
It's designed so that a table of contents is consistently present on the right or left side of the page,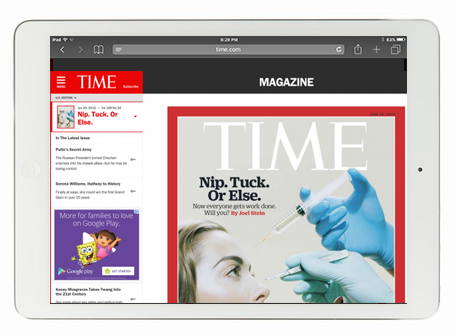 so that when a user reads each article they can hop around, just like in a digital magazine app.
One of the biggest complaints we've heard about digital magazine apps is they're not user friendly, because every magazine designs differently. If they want to subscribe to five different digital magazines, they'll have to learn how to read them five different ways.
Web magazines have several advantages over digital magazine apps:
You're not paying a fee to the software provider for deployment (you can use your current IT/ web development team for design)
You're not paying a fee to the digital newsstand for distribution
You do not need to design a different app for the different types of software, however you will design it to be responsive so that it can be viewed on all shapes and sizes of devices
The content you publish can be shared (think: sponsored content)
The content you publish in the app can be found on the web
You can offer contrast pricing and upgrade users to larger bundles
You can sell cross-platform advertising packages that include greater, and trackable visibility on their content
You might think having the ability to share content isn't a benefit, but wait.
All of your content, by nature, is behind a paywall when you have a web magazine. The user logs in to access their digital edition, and has access to old issues through the same login.
However, the publishers we work with don't put custom, sponsored content behind a paywall. Instead, they make that content free and open. This way the content can be seen by anyone on the web, which increases the visibility of the content. Tell that to an advertiser, and the value of paying for custom, sponsored content increases.
Not to mention, when the content lives on the web, and not in the app, that sponsored content can be promoted in social media, so you can add social media marketing to your ad packages.
Digital magazine readers aren't asking for apps, they're asking for digital editions.
When we analyzed the likes and gripes of digital magazine users, we found usability and availablility as the two biggest issues. People want to read a magazine like they read a magazine. They want interactive features, like better ads that engage them, and videos embedded in content. They want to bookmark content to save for later. They want to increase the font size when they need to. And they want to be able to find their favorite magazines on whatever device they have, whereas most publishers stop at an iPad edition, or an Android edition for their magazine app.
By developing a web magazine, you can offer subscribers all of that, and you're not limited to your digital magazine software when it comes to functionality and interactive elements you want to add.
Web magazines allow you to keep more revenue and test pricing.
With a web magazine, you can now sell your web magazine however you want and keep all the proceeds. For example, if you have a print magazine, a web magazine, and a magazine library of old content you no longer publish, you could sell it like:
Web magazine: $19.97
Magazine library: $29.97
Both products bundled: $34.97
Now, $34.97 contrasted with $19.97 seems pricey, doesn't it? But if you're like most buyers, you'll also spot the $29.97 price compared to the $34.97 price – and now $34.97 doesn't seem so high. This is the magic of contrast pricing, or what we sometimes refer to as decoy pricing. Hey, it's just $5 more … and you can get what's behind Door #1 and Door #2 for that extra $5! Might as well go for it! That's the digital magazine pricing model that generates the highest revenue.
A web magazine gives you so many opportunities for experimentation and growth, whereas a digital magazine app needs to be redeveloped from month to month, limits your revenue opportunities, and basically puts your magazine in a box.
But the reality is your customers want both. And just to be clear, the best magazine publishing strategy is one that encompasses print, apps, AND web. You don't need to pick just one.
What do you think about web magazines versus magazine apps?  Leave a comment and let's discuss!