Introduction to the Mequoda System™ 2006
By— Don Nicholas • 01/01/2006
The Mequoda System™ is an internet business model comprised of seven organizational habits
The Mequoda System™ is a collection of media management behaviors that when operated as a repeating cycle, create an audience-driven, continuous improvement media management system. To discover and document the Mequoda System™, the Mequoda Research Team has studied the management strategies and habits of hundreds of successful (and not-so-successful) media organizations to arrive at seven best practices, or organizational habits, that comprise the most current version of the Mequoda System™.
The Seven Habits of Highly Successful Niche Media Empires
Implement a Strategic Management System
Build a Mequoda Media Pyramid
Build a Mequoda Website Network
Organize Content Around the Customer
Create User-Centric Websites
Implement the Mequoda Marketing System
Make Metric-Driven Decisions
The Mequoda System™, when executed with passion and accuracy, can transform any special-interest magazine, newsletter, book, website, blog, forum, TV show, radio show or newspaper column into a multi-million dollar niche media empire.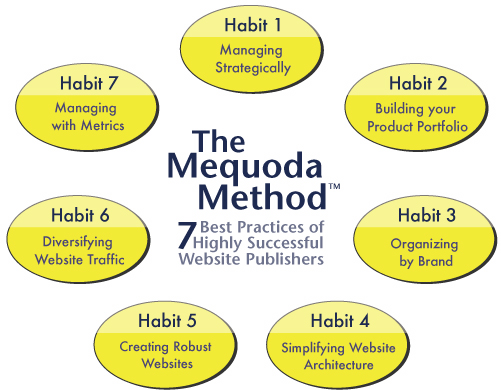 Understanding the System
Over the past 10 years media companies have spent billions of dollars trying to figure out how to make money on the Internet. The most basic question: Is the Internet a media product or a marketing channel? The answer, we now know, is "both." It is a marketing channel for existing media products that include magazines, books and newsletters, and it is a medium in its own right that allows us to create all manner of websites, email newsletters and other digital information products.
Publishing companies, perhaps because of their rich archives of available content, embraced the Internet rather early. Confusion about the role of the Internet in an existing media organization led to big losses and infrequent success. For some publishers, that situation has now changed. In fact, the very nexus of a number of today's most successful media companies—some large, others small—is the Internet.
We have cataloged case studies on more than 200 media organizations that made money on the Internet in 2005. Some generated as much as 100 percent of their revenue online, and many traditional print publishers generate more than 30 percent. Perhaps most surprising is the fact that in most of the 200 case studies we've done, more than 80 percent of the publisher's revenue comes from the sale of physical products (magazines, newsletters, CDs, DVDs, events, etc.) while only 20 percent comes from digital products like online advertising and membership website fees.
At the Mequoda Group, we have kept a watchful eye on the changing Internet landscape over the last decade, observing the ways various companies have employed the "new media" with more or less financial success. The successful online publishers appear to have one thing in common: whether consciously or simply intuitively, they achieve success through a consistent management system that includes key business practices, or behaviors, that strengthen and support each other and are repeated over and over.
Our research team has examined, reviewed and/or profiled hundreds of successful (and not-so-successful) Internet publishers and media marketers, and we isolated the key behaviors practiced by the Internet's most financially successful special-interest media companies. Then, using that research as a basis, we devised a cohesive model of best practices for successful Internet business management.
The result is the Mequoda System™, an Internet-centric media management system comprised of seven organizational habits. It's important to understand, however, that these seven habits are not isolated best practices. Rather, they are elements of a unified management system. When exploited completely and repeated consistently, the habits reinforce each other and, ultimately, create a continuously improving, audience-driven media management system.
Successful integrated media management in the 21st Century boils down to creating happy users and healthy profits. Without accomplishing both, no media organization will exist for long.
Whether your purpose is to launch a new media property or to manage, maintain and improve an existing media brand, the Mequoda System™ is an effective media management system that can help you turn your special-interest magazine, newsletter, book, website, blog, forum, TV show, radio show or newspaper column into a multi-million dollar media empire.
Case Study Summary: Agora, Inc.
Agora, Inc. is the best example that we've found to date of a reasonably good-size company that generates a disproportionate amount of its revenue online, and that has a robust Mequoda Internet Hub with a large, controlled-circulation subscriber file and a high-frequency email newsletter attached to it.
Daily Reckoning.com is the Internet Hub of Agora Financial Group, the largest of five independently operated businesses based in Baltimore (and several other companies located overseas) and owned by Agora, Inc., a holding company.

The Daily Reckoning is Agora's flagship newsletter—a free, permission-based email newsletter that establishes user loyalty for the company and, at the same time, creates a database of qualified subscribers to whom Agora can market its products—books, print newsletters and events—on several Mequoda Marketing Satellite websites.
Until the mid-1990s, Agora generated all of its revenue through the sale of print products—primarily daily newsletters—sold via direct mail. It was about that time that Bill Bonner, Agora's owner and chairman, saw the inevitable competition that the Internet would soon present to print publications.
By 1999, The Daily Reckoning email newsletter was born—a lengthy, meaty, financial publication published daily by Agora and distributed free to anyone who furnished an email address. That single move effectively positioned Agora as an online publisher. In 1999, the company generated about one million of its $25 million annual revenue from online sources.
Whether Agora realized it at the time, the Internet is a terrific, almost frictionless environment to communicate with customers. And the special thing that DailyReckoning.com did (and continues to do today) was to treat people who hadn't paid any money but had surrendered their email address as if they were loyal customers. Agora also took the free email newsletter very seriously, filling it with timely, worthwhile information, written in an amusing style—a good read.
The Daily Reckoning today runs a colossal 16 pages per issue, on average, and is distributed to 500,000 readers every weekday afternoon. In addition, the company has replicated the newsletter twice. The Rude Awakening is a free, early morning edition and The Daily Reckoning weekend edition, also free, summarizes all the previous week's news. Agora's online revenue has grown steadily from the $1 million generated in 1999 to $65 million in 2004—for a total of $250 million in online revenues over the period. In 2005, Agora estimates it will generate $210 million in total revenue, with more than half—an estimated $110 million—produced by products that the company markets and sells online.
The seven organizational habits, or best practices, described in this chapter—which are commonly and consistently used by highly successful Internet publishers and marketers—comprise the powerful, self-reinforcing Internet-centric media management system called the Mequoda System™.
This article was written by Don Nicholas with the help of Jane E. Zarem. It is just one part in a series on the Mequoda System™. See below for the rest of this series:
1. An Introduction to the Mequoda System
2. Mequoda System Habit #1: Implement a Strategic Management System
3. Mequoda System Habit #2: Build a Mequoda Media Pyramid
4. Mequoda System Habit #3: Build a Mequoda Website Network
5. Mequoda System Habit #4: Organize Content Around the Customer
6. Mequoda System Habit #5: Create User-Centric Websites
7. Mequoda System Habit #6: Implement a Mequoda Marketing System
8. Mequoda System Habit #7: Make Metric-Driven Decisions
9. Repeat the Continuous Improvement Cycle
To see our latest revitalization of the Mequoda System™, download our most recent FREE Online Publishing Secrets white paper.
Posted in Multiplatform Publishing Strategy