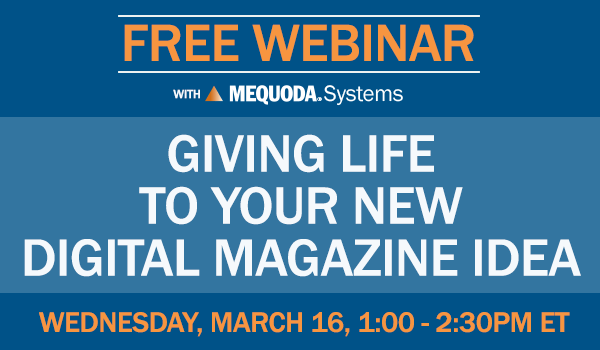 If you have an idea for a new digital magazine and are considering the many options for publishing it, you're reading the right words, at exactly the right time, and the time to launch your digital magazine idea might be soon.
Our team has been launching successful digital magazines and their support systems for more than a decade. Some of these early, from-scratch systems included a print component. More recently we've embraced the digital future and launch systems that are 100% digital.
As you might imagine, we've been rethinking what it means to be magazine publishers in the process. With the launch of our own Food Gardening Network, we had the opportunity to plan and create a new multiplatform magazine brand from scratch using everything we've learned over the past couple of decades.
If you join us on March 16 at 1pm ET for a FREE webinar, Giving Life to Your New Digital Magazine Idea, you'll discover the anatomy of the editorial content and strategy we used to launch this niche media brand. At its core, Food Gardening Network includes five editorial frameworks that are married into a single digital magazine publishing system with interlocking content and reader engagement goals. Let's review each of the five editorial frameworks in play.
Let me tell you how we've earned so much expertise in this area.
Since this webinar is free, we expect it to fill up, so register now to guarantee your seat. 
Over the past 20 years, our team has been innovating, testing, improving, and documenting a step-by-step digital publishing and marketing methodology with hundreds of best practices that have helped our partners—and can help you—use their magazine media brands, content, and organizational resources to build engaged audiences and create highly profitable subscription and membership websites.
Join me and Mequoda's CEO, Don Nicholas, as we share and demonstrate how publishers are thriving in 2022 with profitable membership websites. And because we want you and your team to attend without impediment, we are presenting this webinar absolutely free! 
I know what you're thinking: What's the catch? or Where's the sales pitch? Other than genuinely looking forward to this conversation with you, our goal at Mequoda is to give you all the tools necessary to succeed. It's why we have been sharing our entire business model and best practices five days a week through the Mequoda Daily. Plus, this program will go into our premium subscription product Mequoda Pro after it's concluded, so this is your one chance to get it for FREE!
We hope you'll find that this 90-minute free webinar marks a turning point in how you look at launching a new digital magazine, and that you walk away with a notebook full of ideas you can start testing immediately.
And if you decide to take the next step and let us help you accomplish your new goals, we'll be happy to talk with you after the call. But for now, all you have to do is register today and we'll give you a whole outline for your launch that you can start implementing right away, on your own if you choose.
Register today so you don't miss out on this event, and please pass this along to colleagues and any friends in the industry who may benefit from this webinar.
Don and I look forward to meeting with you and answering your questions at the end of the webinar and helping you relate our methodology to your organization, mission, and goals.
If you have any questions, please don't hesitate to reach out!