New Mequoda Masters exemplify the best of multiplatform publishing
The Mequoda Multiplatform Publishing Hall of Fame, founded in 2006 to recognize publishing executives at the top of their game, has now expanded to 11 members, with the induction of two new Mequoda Masters at the annual Gold Member Summit last week.
With great pride – more than usual, as you'll soon see – I have awarded the title of Mequoda Master this year to Bryan Welch, founder of Ogden Publications and  publisher and editorial director for the company's many magazines; and to Gail Odeneal, Director of Marketing at the illustrious Program on Negotiation at Harvard Law School. As some of you know, Odeneal is Gail's professional name, but at home she goes by the name of Gail Nicholas.
These two new Mequoda Masters demonstrate that the Mequoda Method can be used successfully by both for-profit and nonprofit publishers, as well as B2B and B2C.
Like all Mequoda Masters, Bryan and Gail are publishers and marketers who have not only mastered the Mequoda Method, they have leveraged it to become rock stars in the publishing world. What's more, they routinely help others to learn the method and advance the art and science of multiplatform publishing every day.
Gail Odeneal
Mequoda Master 2014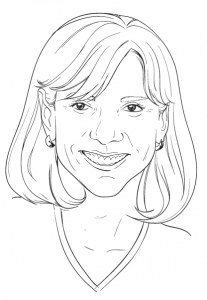 Gail is an experienced senior marketing and communications executive who has worked for companies and institutions in both the for-profit and nonprofit sectors. She is currently responsible for marketing all executive education seminars, newsletters, books and teaching materials for Harvard Law School's Program on Negotiation.
Gail spent 16 years at International Data Group (IDG) where she was responsible for the launch and marketing of several high profile events including the Macworld Expo. Her last assignment there was as Senior Vice President, Consumer Marketing at Computerworld.
After leaving IDG, Gail was the Co-founder and Chief Marketing Officer at Blue Dolphin Group, and was responsible for building a database of 7.7 million magazine buyers.
After Blue Dolphin merged with Zinio in 2005, Gail served as a Senior Editor & Project Manager for Mequoda Group, where she actually helped develop the Mequoda Method. And to address any question about nepotism, Mequoda Masters are determined by an algorithm reflecting participation in the Mequoda community and business metrics and Gail was this year's clear winner.
Just prior to taking on the Program on Negotiation, Gail was most recently responsible for program marketing and development at Boston's Museum of Fine Arts.
When Gail arrived at PON in 2011, she took on the role of firefighter for the program, which sells live professional training events, teaching tools and a monthly newsletter. And there were plenty of fires to put out: The recession had begun a downward spiral in 2009 for what was largely an event business, and PON's longtime marketing agency had gone out of business. The program relied entirely upon direct mail for its marketing and had no web strategy at all.
In an effort to increase the number of participants per program, PON had reduced the number of programs it offered. Still, attendance – and revenues – continued to decline. Gail instituted the Mequoda Method, including a website redesign and new contrast pricing. PON now uses content and high-value keywords to drive traffic, proper website architecture to capture email addresses, and a free newsletter to engage and monetize its audience.
The result?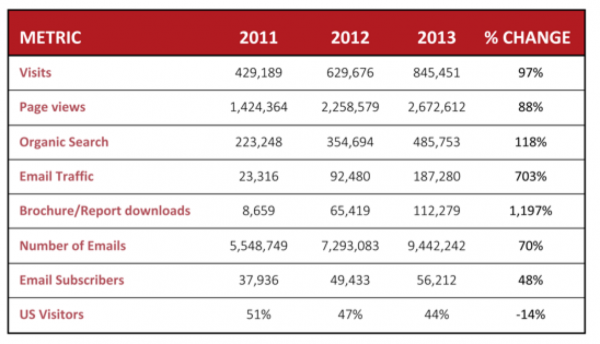 PON has also increased its revenues by 63%, maxed out attendance at 12 of its 14 programs, and even launched a new advanced course – in short, a complete reversal of the trend that had begun in 2009.  An impressive turnaround by a disciplined Mequoda operator — and this year's newest Mequoda Master.
Bryan Welch
Mequoda Master 2014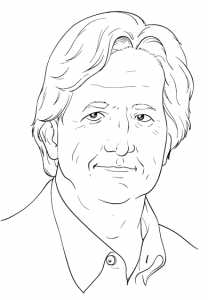 As noted above, Mequoda began inducting Mequoda Masters into the Hall of Fame in 2006.  Had we started a year earlier there would have been no question who would have been named.  So, we are pleased to be able to correct history and induct Bryan Welch as the Founding Mequoda Master.
Bryan started his career as a journalist, editor and other management roles for newspapers in Colorado, New Mexico, Utah, Washington, Minnesota and Connecticut.
He then founded Ogden Publications in 1996 based in Topeka, Kansas. Key brands include Mother Earth News, Natural Home, Utne Reader, The Herb Companion and Grit. Ogden Publications also serves niche markets with magazines and books targeting rural lifestyle, farm memorabilia and classic motorcycle communities. Bryan currently serves as publisher and editorial director of Ogden's many publications.
Ogden's websites are growing exponentially and currently attract more than 3.5 million unique visitors each month.
The evolution of the Mother Earth News' online efforts started in earnest after the acquisition by Ogden as they began to digitize and archive previously published content.
Mother Earth News became a Mequoda client in 2004 and began creating its Mequoda website. Monthly website page views grew from 600,000 in 2004 to 1.5 million in 2005. In addition,
Daily visitors to the site jumped from an average of 8,000 in 2004 to an average of 33,000 in 2005.
Monthly subscription sales went from $8,000 in 2004 to $30,000 in 2005.
Average monthly product sales were $7,500 in 2004 vs. $16,000 for 2005.
Total online revenues for August 2004 were $16,300 vs. $53,000 for August 2005.
Average circulation increased by 41%.
By applying the Mequoda Method rigorously, things just kept getting better for Mother Earth News.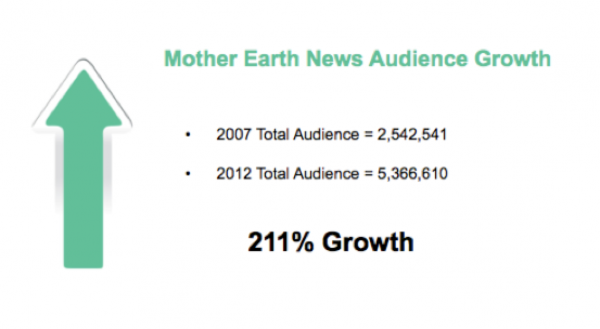 And these improvements aren't limited to its website. While national newsstand revenue has gone down from $5 million in 2007 to $3.2 million in 2013, a trend we're all familiar with, revenue for Mother Earth News actually increased 93% in that same time period.
All in all, total revenues for Mother Earth News increased 70X since Bryan first embraced the Mequoda Method.
Bryan has now moved on in a new role as CEO at B The Change Media, a multiplatform media company he founded in the spring of 2015, focused on business as a force for good in the world.
As you can see, both of these new Mequoda Masters are worthy recipients of the honor. Please join me in congratulating Gail and Bryan, and be sure to read more about all of our Mequoda Masters.