Model yourself on this publisher and experience the 'virtuous circle'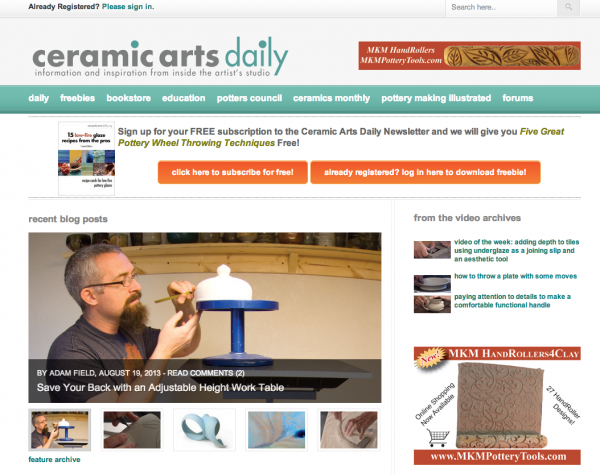 When it comes to showing off a perfectly executed subscription website, they don't come any more perfect than CeramicArtsDaily.org. Along with all our other Mequoda top operators, they're golden in our eyes because of eye-popping statistics like these:
Since 2005 …
From revenues of $2 million to $3.5 million
From 0% Internet visibility to 26%
From 20 products to more than 100
50,000 videos sold
125,000 registered website users
1.5 million annual unique visitors to its portal
500 new email addresses every week
Brand-new tablet editions of Ceramics Monthly and Pottery Making Illustrated with 1,200 subscribers in just four months
The American Ceramic Society turned to the Mequoda Method in 2005 to address the stagnant growth of its two print publications, Ceramics Monthly and Pottery Making Illustrated, whose audience is both ceramics professionals and dedicated amateurs. Any niche publisher with ambitions to dominate their space should carefully study its subscription website, CeramicArtsDaily.org.
Find out the CMS features that publishers require to manage an online publishing business. Download a FREE copy of 7 Ways Haven Wordpress Goes Beyond Wordpress, and discover the features all publishers should have access to for a bigger audience, greater revenue, and higher profits.
Button-down execution of a Mequoda System website: It starts with a portal
Those people familiar with Mequoda System subscription websites will instantly recognize CeramicArtsDaily.org. That's the portal that the American Ceramic Society uses to unite its marketing efforts for two different publications and the society itself. The Mequoda Method, to the surprise of many multi-product publishers, stresses this kind of central organization on the Internet.
As we often say, your magazine is not a website, and your website should not be a magazine. So what's a portal? It's the place where you attract and retain potential customers. It's not the place where you publish all your content. And you don't need one for every different product you have, either.
The idea takes some getting used to, but the American Ceramic Society decided to run with it. "Honestly, it took strong leadership and vision (not mine at the time) to invest the resources to retool our entire web presence of three separate brand websites around one central informational Mequoda portal," says Managing Director Sherman Hall.
"It required embracing a model for publishing that was different from anything we were familiar with. Editors were unanimously skeptical, due in large part to their lack of knowledge and familiarity with even the most basic online practices, from blog writing to SEO to interruptor ads – or any advertising, for that matter."
The best part about executing the Mequoda Method portal is that it jumpstarts your monetization efforts – and of course, monetization is what everyone seeks, even a non-profit organization.
As Hall explains it, the portal concept "gave us solid footing in what was then a new world of online publishing, and even the early results gave our editors the tools necessary to engage brand new customers."
To engage those new potential customers, the American Ceramic Society follows even more Mequoda Best Practices. First-time visitors get the ubiquitous and phenomenally successful floater that offers a free report – one of 38 available – that's aligned with the search terms that led the visitor to the site.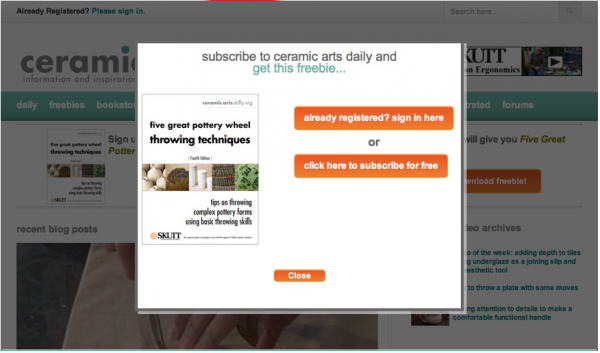 This is the foundation for converting anonymous visitors to email newsletter subscribers – 500 new subscribers a week, remember, and all for a mature operation that's been fishing the pottery-making waters for eight years!
These same free reports are also offered in their own section, which is accessible from the navigation bar, the tab second from the left, just after the tab for the daily blog. One thing I love that I don't see enough of: CeramicArtsDaily regularly updates its free books by adding new techniques, recipes and so on.
They even go the extra step by redesigning the cover, crossing out the old number and adding the new one in bold, complete with exclamation point. What a terrific way to impress the consumer with the value of your freebie!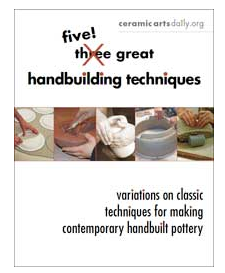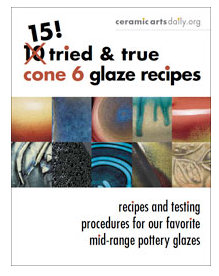 If you close the floater without signing up for the free report, you're still looking straight at another Mequoda must-have, the OFIE (order form in editorial). This one is also offering a free report.

Find out the CMS features that publishers require to manage an online publishing business. Download a FREE copy of 7 Ways Haven Wordpress Goes Beyond Wordpress, and discover the features all publishers should have access to for a bigger audience, greater revenue, and higher profits.
Giving away content … that's crazy talk. Isn't it?
Those of you who are not familiar with the Mequoda Method may be wondering how giving away content can possibly help the American Ceramic Society make money. And that's what a lot of people say when they first try to understand it all.
So I asked Hall what he was thinking when he first encountered the Method.
"As any publisher new to the Mequoda method might imagine, the thought of putting a lot of work into a complex web portal whose main function – on its face, anyway – is to give away a good deal of the content you have been trained to guard and sell, seemed daunting, even wrong-headed …" Hall says.
Ah, but that was then. Hall adds … "until we saw our product sales double in the first year because of the email list growth and online visibility we didn't even know we were missing.
"We had the mistaken perception that everyone in our field already knew about us. Sometimes it's good to be wrong."
This happens a lot in Mequoda world. Marketing guy thinks there's no more audience to be had online. Then the Mequoda Method doubles or triples it. Food for thought, no?
Next, the star of the Mequoda Method portal is the daily blog, which, naturally, the American Ceramic Society also delivers. It's updated on the website on Mondays, Wednesdays and Fridays. And Amanda will be analyzing how they use the blog as a newsletter program in due course for her regular Wednesday email marketing blog.
In the meantime, a quick examination of blog posts reveals that they're highly informational, but also are often excerpts from the two magazines or from products in the store. They also include OFIES for the magazines and products.
Digging further into CeramicArtsDaily.org, there's also a robust store offering books and DVDs, both hard copies and downloadable. If you execute the Mequoda Method portal and generate a large audience, you can expand your product offerings exponentially. In fact, says Hall, "We would not be doing this without the online portal through which our audience all but demanded this expansion from us.
"Our growth from a print publisher into a niche-dominating media company was made possible by our online success, and the fact that we are now a multi-media company supports and increases that online success. It's a virtuous circle."
Other sections of the website reflect the non-profit, educational aspect of the American Ceramic Society: Education plus information about the Potters Council, nonprofit subsidiary of The American Ceramic Society.
(It's education like this that is the main goal of the Society, of course, so it makes us at Mequoda feel warmer and fuzzier than usual to have helped this non-profit to such astounding revenues.)
At the far right of the navigation bar, you find a tab for "Forums." This is a Mequoda Best Practice, because forums draw in casual visitors and keep existing subscribers fully engaged. The more often someone visits, the more times they'll see your OFIES and text ads for your products! It's also a powerful part of your advertising sales pitch, and this subscription website does indeed carry third-party ads.
And as it happens, Ceramic Arts Daily is clearly an engaging place to be for the pottery crowd. Take a look at these numbers:
7 forums
4,135 topics
35,000 + replies
With all that activity, it's no wonder that annual revenues have reached $3.5 million from subscriptions, product sales and advertising.
Find out the CMS features that publishers require to manage an online publishing business. Download a FREE copy of 7 Ways Haven Wordpress Goes Beyond Wordpress, and discover the features all publishers should have access to for a bigger audience, greater revenue, and higher profits.
Let's talk SEO
Actually, there's not much to say about CeramicArtsDaily.org's search engine optimization. It's flawless.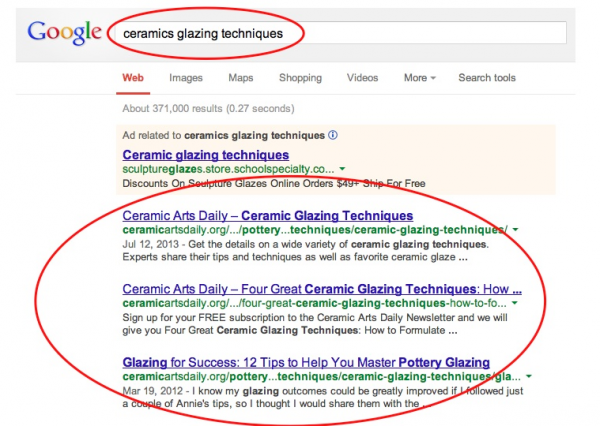 And it works like that no matter what ceramics-related search term you use. Bottom line: They own ceramics on the Internet.
This, of course, explains not only those 500 new email subscribers, also known as potential buyers, that the site harvests every week, but also the website's outstanding Online Media Index. With average monthly unique visitors of 125,000, and circulation for both magazines of 31,000, CeramicArtsDaily.org has four times as many visitors as it does paid circulation, or an OMI of 4.0.
This is astonishing, considering how difficult it seems to be for so many publishers to struggle above 1. As we point out in the Digital Publishing and Marketing Intensive, some the top magazines in the country look like this:
Taste of Home 0.81
Better Homes & Gardens 0.25
Good Housekeeping 0.23
Reader's Digest 0.14
Woman's Day 0.14
Family Circle 0.02
Ladies' Home Journal 0.01
I mean, if that's the best you can do with more resources at your fingertips than any other publisher in America, why get out of bed in the morning?
In short, CeramicArtsDaily.org is the perfect role model for any small, independent niche publisher. And while it works for everyone, the Mequoda Method is best suited for publishers like this, simply because it requires discipline and patience, something that is not often found among large multi-product publishing companies.
So if you want to understand the "virtuous circle," you should spend some quality time with one of our favorite subscription websites of all time. Attract an audience, convert them into followers, and sell your products to your new best friends. That's what a subscription website is for, and that's what the American Ceramic Society is doing in spades – despite initial skepticism and the non-intuitive nature of the Mequoda Method.
What do you think of CeramicArtsDaily.org's methods? Have you had success with any of them? Is there anything else you do that's not a Mequoda Best Practice as outlined here that has had good results? Talk to me in the comments, but be sure to also check them out as soon as you get a chance.