How America's Test Kitchen's Revenues have Grown from About $15 million to an Estimated $46 million in Just Five Years… Shouldn't you be Using the Same Strategy for Selling your Information Products on the Internet? Doesn't your Job Depend on it?
Chris Kimball, CEO of Boston Common Press, is master of what we now call multiplatform publishing. Chris has gone from a publishing a single cooking magazine, Cook's Illustrated to a growing media empire that spans books, another print magazine, books, membership websites, a TV Show on PBS, email newsletters and DVDs.
While we have seen other publishers practicing this multiplatform publishing model, it seems as though they are stumbling into new media. They often struggle with their branding in this new era of publishing, while Chris and his team thought very carefully about this process from the very beginning.
Chris knew he needed a brand that was bigger than Cook's Illustrated and that could span easily across different media. Hence, America's Test Kitchen was born as the "uber" brand with a very simple editorial mission: to provide cooking enthusiasts with recipes that work.
These recipes are published on TV, the Web, email, books, magazines and DVDs.
Revenue has increased a staggering 20 to 30 percent year over year since 2001 and will exceed $46 million for 2006.
ATK has profitably mastered the use of multiple media platforms to serve millions of customers.
Looking at the operation from the outside you might conclude that it is a magazine that started a TV program. But it is a much more sophisticated and complex operation. There are lessons for every publisher in the ATK experience.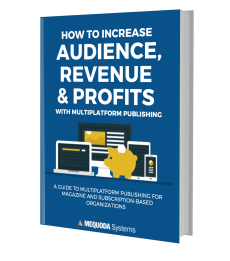 Learn the secrets behind today's most rapidly growing niche publishers. Download a FREE copy of How to Increase Audience, Revenue & Profits with Multiplatform Publishing, a guide to multiplatform publishing growth for magazine and subscription-based publishers. Download now.
Introduction
Most publishers we've studied are masters of one medium at most. For some its magazines or newsletters, for others its books, and for others it's the Web. Chris Kimball, CEO of Boston Common Press, is master of all three and TV to boot. From a single cooking magazine started in the mid 90s, Chris and his team have built one of the most robust multiplatform publishing operations on the planet. While other media operations stumbled into new media, America's Test Kitchen was born as the "uber" brand to provide cooking enthusiasts with recipes that work. These recipes are published on TV, the Web, email, books, magazines and DVDs. Revenue has increased a staggering 20 to 30 percent year over year since 2001 and will exceed $46 million for 2006. To top that, Cook's Illustrated will pass one million paid circulation this fall with no end in site.
Most publishers are familiar with Kimball's popular Public Broadcasting System (PBS) TV show, America's Test Kitchen (ATK), and know there is a companion magazine called Cook's Illustrated. But most have no idea about the breadth of the ATK brand or magnitude of its sustained growth in revenues and profits. There are in fact, two magazines (three-year old Cook's Country is the second), a series of books, multiple websites Internet Hub, Retail and Membership archetypes), an email newsletter and DVDs. All of these are all part of a sophisticated, consumer-oriented network of products created by Boston Common Press, the quiet little company that owns the ATK brand.
As this Mequoda case study reveals, ATK has profitably mastered the use of multiple media platforms to serve millions of customers. By packaging and repackaging the same well-tested information, and using the Web as its marketing hub, Chris and his team have built a $46 million, single-subject, niche media empire, with zero advertising revenue, high-quality editorial—and a zealous dedication to helping ordinary cooks prepare extraordinary meals.
ATK is an excellent example of a 21st century publishing company for many reasons, including its willingness to be agnostic as to media. Looking at the operation from the outside you might conclude that it is a magazine that started a TV program. But it is a much more sophisticated and complex operation.
Core Strategy: Audience and Purpose
You may have seen Chris Kimball, the visionary behind this high-growth multiplatform publishing empire hosting the TV face of his Media Pyramid on the Public Broadcasting System (PBS).
Chris has an impressively simple summary of his editorial mission: Recipes that work. ATK is, at heart, a laboratory. It tests thousands of recipes, techniques and common kitchen equipment every year.
The information produced by this prodigious effort is directed at people who have an interest in cooking. They may or may not consider themselves good cooks when they come to ATK. In either case, they have much to learn from the testing done for them.
Many ATK customers find out that the reason their cooking was not so good had more to do with the quality of the recipes they were using than with their skills. When they use the successful recipes from the ATK, they too are successful.
To make it perfectly clear that the customer is the primary focus, ATK accepts no advertising in any of its media vehicles. This places it in an unusual position for a publisher, similar to that of Consumers Union, publishers of Consumer Reports. While the TV program has sponsorswho underwrite the PBS direct production costs, all ATK revenues come from its readers, users and viewers. The sponsors do receive credit at the front and back of the show as well as prominent links on the ATK homepage.
The heart of the operation is the test kitchen, with 30 test cooks testing as many as 50 recipes a day and running selected equipment testing as well. These people are experienced cooks, but not sophisticated restaurant cooks. Restaurant cooking is not relevant to this kind of cooking, which mimics that done in a typical American kitchen.
ATK decides what to test by doing extensive surveys. Thousands of questionnaires go out every week asking people what they want to read, as well as what recipes and equipment they want to see tested.
Everything goes through multiple rounds of testing in the kitchen, and if successful, gets sent to roughly 5,000 volunteers who have agreed to try it. If it passes that test, it gets published. But it's not over yet.
Chris says he has found that the people who make the best cooks are not necessarily the best writers, so he employs writers to create articles about the recipes for his magazines, books, and websites. He plans to add a videographer to create a library of some of the recipe production for an online archive.
Once the article is published, readers are asked if they read the article and what they thought of it. Then they are asked if they actually used the recipes and if so, could they please rate the ones they used.
As Chris puts it:
"We're very scientific about publishing. We have to be to serve our readers properly. I disagree with editors like William Shawn,deceased New Yorker editor who, when asked how he decided what readers wanted in the magazine, told Conde Nast's Sy Newhouse, 'Well I don't care what they want. I edit the magazine for me.'"
Product Strategy
The central product of ATK—tested, proven recipes and useful equipment reports—is packaged and repackaged for distribution in an extensive portfolio of media platforms. New products are grown out of the old and tested. If they succeed they are added to the mix. In one way or another, though, the products are all different versions of the same information.
1. The flagship magazine is Cook's Illustrated. It includes articles and recipes and has nearly 900,000 paid subscribers, but no advertising.

2. The PBS program America's Test Kitchen provides some of the same information (in video form) as found in Cook's Illustrated.

3. A new magazine, Cooks' Country, focuses on "country cooking." Cook's Country is an excellent example of how old products birth new ones. As the promotional copy shows, it is actually a subset of the Cook's Illustrated editorial mission:

Devoted to the kind of homey, family-style food that represents the best of country cooking, Cook's Country starts with the same exacting recipe-testing process to produce recipes that will work every time in your home kitchen. (That's why we test recipes 20, 30, even 40 or 50 times.) We use good pans and cheap pans, good ingredients and bad ingredients, great stovetops and the worst electric burners we can find just to make sure that our recipes will work for you.

4. There are at least 45 ATK books for sale, both in bookstores and at the Website, covering a variety of cooking and related topics. Several are or have been best-sellers.

5. Another important part of the business is a paid membership website, CooksIllustrated.com. It offers much the same information as the magazine, with extensive archives and a good search engine, powered by Google. Some information is free, but if you want to access the bulk of it, you have to subscribe. Video clips of recipes being cooked are in testing.

6. In addition, ATK offers DVDs (a business that is being studied for serious expansion) and a free email newsletter.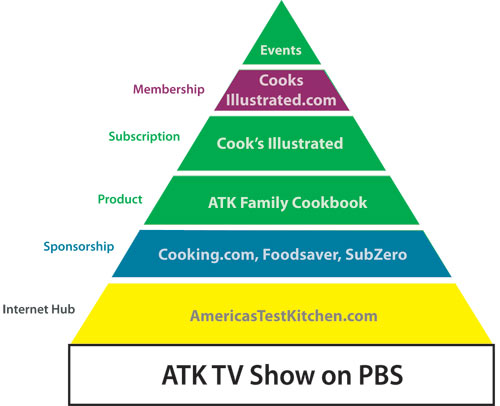 America's Test Kitchen Media Pyramid
Website Strategy
The Internet is the hub for ATK. The ATK Website network offers free information, a paid membership site and extensive retail websites with opportunities to buy things like magazine subscriptions, books and DVDs. But there is no advertising for anything other than in-house products.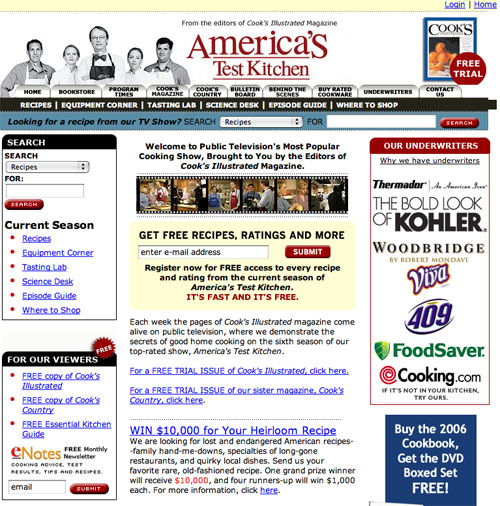 The website strategy and network is currently being upgraded, with new architecture and new features. Mequoda agrees with this decision. We think the Website could accomplish much more with better design. One of the changes will allow paid Website subscribers to see videos of the recipes being cooked.
In addition, Mequoda believes that better Website architecture could do a better job of selling ATK products. In addition, ATK could double or triple its email newsletter circulation with more effective conversion architecture, which would further increase online revenue (see below). With those upgrades, Mequoda believes that the ATK Website could generate 100,000 paid subs for the magazines per year compared with the current 35,000.
For more information, see our America's Test Kitchen Landing Page Review and America's Test Kitchen Website Design Review.
Email Strategy
ATK has developed only a rudimentary email marketing system. Visitors to the website can sign up for a regular email with tips and recipes. ATK eNotes goes out monthly. In addition, ATK sends promotional emails touting various products.
In Mequoda's opinion, this should be significantly upgraded and revised. Emails with tips and information should go out at least weekly. Ideally email lists and content should be segmented. For example, subscribers should be able to indicate an interest in a particular topic, like kitchen supplies or baking, and get emails tailored to their interest.
Promotional emails should also be segmented by opt-in topics. Mequoda recommends that to retain readership, publishers shouldn't send more than one promotional email for every editorial email sent. Editorial emails from ATK could offer links back to paid products, which readers would see as a valuable service.
Chris and his team have major upgrades underway for email publishing and marketing that will rollout in 2006 and 2007 with their planned redesign of their ATK Internet Marketing Portal.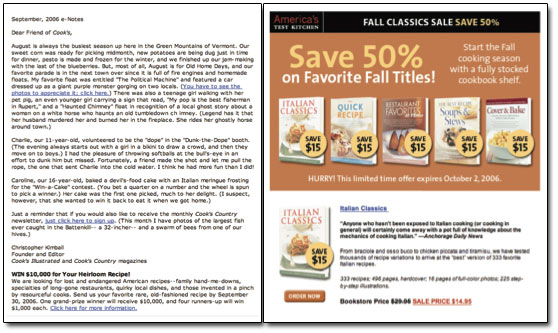 Example: America's Test Kitchen Enote and Promotional Email
Marketing & Brand Strategy
America's Test Kitchen is the overall brand. It describes, succinctly, the editorial mission of the entire operation. The information produced in the test kitchen is then packaged and repackaged in different forms with different titles and the America's Test Kitchen brand.
The marketing strategy is designed to help customers build a relationship with this brand and then to sell them branded books, subscriptions, DVDs and other products. Since there is no advertising anywhere in the ATK Empire, this is the way they make money.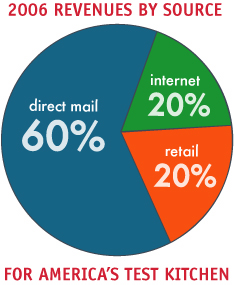 ATK's basic technique is to get you to sign up for something. There is the free email newsletter (which is being expanded as we described above) and a variety of paid products. You can sign up for the newsletter by providing both an email address and a town or city of residence. But, if you provide a full address, ATK will send you a "free issue" (standard soft offer) of Cook's Illustrated.
As anyone who cannot stop getting emails from a 10-year-old list-serve knows, it is usually hard to get off a list once you get on it. Not so with ATK. Chris says that if someone on the free email list does not click on something in six months, they are cast out.
Chris sums up his business this way:
"I think the answer in publishing is to use all these technologies as an opportunity to sell your content in a different form to a wider audience and the same audience again. So we're in the content repackaging business and the database business."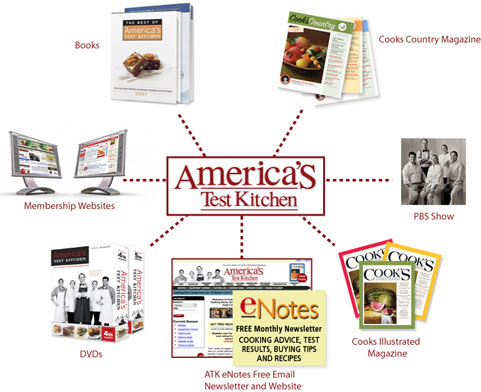 America's Test Kitchen Brand Wheel
Organizational Strategy
As we detailed earlier, Chris Kimball is a strong believer in keeping his business customer focused and invests a great deal of money keeping up with what his customers want. Do they read it, use it, like it? Unlike many publishers, Kimball can answer these questions with a high degree of certainty.
Editorially, Chris is dedicated to an unusual level of control. "Our philosophy is to do everything inside editorially. Unlike most publishers, 100% of our content is created inside, so we can control it."
On the other hand, he believes in farming out everything else. "We are great believers in finding people outside who can do the work." For example, ATK farms out printing, fulfillment, Web hosting, TV production and distribution. As Chris puts it, he does not want to own and manage a vacation home, he wants to stay in a hotel when he visits.
However, since ATK lives or dies on the quality of its testing and editorial, all of that is internal. The heart of the organization is the test kitchen, and the director of the test kitchen reports directly to Chris. The kitchen does testing for three "recipe" divisions, Cook's Illustrated, Cook's Country and the book division. Each of these has an editor in charge. There is also an overall editor in charge of these people, who works directly with Chris.
Chris says it is hard to find people who can work in the testing process and generally they are not the best writers so he has divided up these functions.
Also integral to the testing is research, as we've discussed. So there is a small in-house research staff, which reports to Chris through a director.
Economic Strategy
While ATK does get underwriters to help pay for the production of the PBS TV program, it generates the vast majority of its revenue from its readers and users.
Chris believes that the key to the modern publishing business is to sell different versions of the same product to a broader audience.
"Some people thought video would hurt movies," Chris says, "I never did. Watching a movie on video is a very different experience from going to a theater. Video did take away some sales from movies, but the whole pie got much bigger."
ATK generates new customers using three primary sources: direct mail for magazine promotions (about 7 million pieces a year) and the PBS TV program that drives a massive amount of traffic to the Web. New customers are also generated through ATK books sold through book clubs, telemarketing and in retail stores. Getting these books into the traditional channel—stores like Borders and Barnes and Noble as well as smaller independents—has been one of the more vexing parts of the business according to Kimball, but quite profitable.
The TV program makes no money. It is a vehicle for gathering names. It generates huge traffic at the website. The lifetime value of the magazine subscribers is very profitable and generates large numbers of subscribers to the websites. Books, while in a very competitive space, are also profitable and generate website traffic.
Once at the ATK portal, every effort is made to sell the visitor something: Magazine subscriptions (around 35,000 sold last year), books, DVDs, and/or a paid membership for more in-depth access to recipes, archives, and a good search engine.
For more about their conversion architecture see the America's Test Kitchen Website Design Review.
Chris is well aware that he is just beginning to uncover all the ways to distribute his content. As he puts it "Every day I come to work there's a new source of distribution that just opened up. iTunes is going to start selling our TV show, and there are iPods, and on and on. I can see having 50 different sources."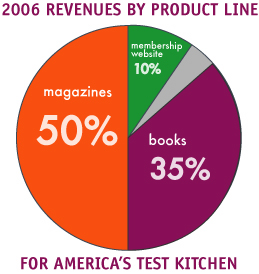 Reporting Strategy & Key Metrics
The key metrics on which Chris relies to measure the success of ATK are the traditional ones: magazine circulation, cost per new order and renewal rate.
These have all done very well over the history of the company.
Direct mail is about seven million pieces, mostly for magazines, but being tested for the membership site. ATK's allowable cost per order determines the mail volume and if they can improve the cost per order, then the mail volume would increase as well.
Circulation of flagship the magazine, Cook's Illustrated: 900,000 and growing. Subscription sales on the Web are about 35,000 and growing.
Membership website: 120,000
Book sales get as high as 150,000 for ATK's best sellers.
TV Audience for "America's Test Kitchen" on PBS is between one and one-and-a-half million households per week.
Total Revenues have grown from about $15 million to an estimated $46 million in five years.
Interestingly, lifetime value across the entire database, looking at all product lines, is not yet viewed as a key metric. In our experience that metric is becoming an increasingly important and relevant metric for multiplatform publishers.
Conclusion
In our opinion, there are two primary keys to ATK's success. One is research. ATK uses research to find the best recipes and cooking equipment. It uses research to test its findings with its customers. And it uses research to find out how successfully its customers use its products. The whole approach is as scientific as publishing can be.
The second key is a sophisticated marketing and delivery system. The same information is packaged and repackaged in different formats. Some people prefer books, some the Web, some magazines. No matter how you like your information, ATK can deliver. And their database marketing system does an excellent job of making sure everyone has every opportunity to buy the products best suited to them.
There are lessons for every publisher in the ATK experience.