A guidebook for exploring options available to maximize online revenues
If you are launching, relaunching or fine tuning a website and would like to understand all the things you need to decide – like choosing an ESP, which is just one of the 49 steps – we will be addressing them at the Mequoda System Strategy Bootcamp.
We've called this bootcamp by any number of names over the years. People like Clay Hall, Tom Winsor and Bob Brady – professionals who are in the know and on our advisory board – understand and recognize this type of event.
Dispelling Mequoda Bootcamp Myths
Last week I attended the Niche Media Conference and people would look at my badge and interact in an interesting way. Some would say, "I know you guys. I love your email newsletter."
Another said, "Hey I went to one of your subscription marketing programs back in 1995 in Napa Valley."
By sitting next to people during sessions, I heard one the biggest myths imaginable about the Mequoda strategy. One gentleman whom I had never talked to before said, "I've heard people talk about you, but we always thought your system was so strict and specific that it might not be applicable to us. We were unsure if we wanted to be exposed to a system as strict as yours."
This statement couldn't be further from the truth. Sure, we have a variety of Mequoda best practices that we recommend since we've seen them work, but they aren't like the Ten Commandments…you don't need to follow them blindly. Instead, you should take their teachings and apply them to your business.
I responded by saying, "I can see how you could think that, but the best practices are a series of questions you must answer. Some questions have one answer or as many as a dozen answers."
We have codified our best practices into lists. For example, there are five general content models. We use the five content models as a basis for our discussion about your content plan and determine whether or not you need to execute all five.
Business models in action
We work with several companies in the health and wellness industry. Johns Hopkins Health Alerts, Vida y Salud and Men's Health are 3 examples of companies we've worked with. They share many of our best practices and our four core standards –Content-Driven, Google-Friendly, Subscriber-Centric and Multi-Platform – which are the only four commandments we have. All other best practices are based off multiple-choice questions.
And although these businesses are in the same industry, they operate different business models, including the sponsor model, commerce model and hybrid model.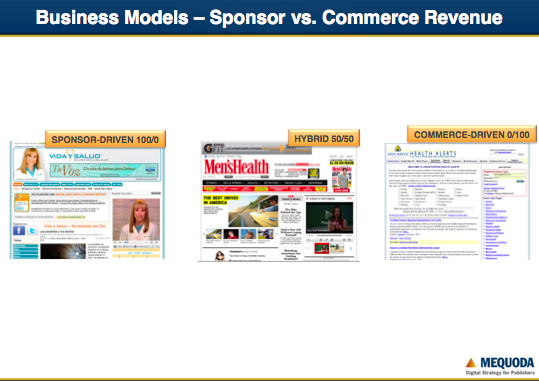 For example, if you wanted a subscription website that requires users to pay, I'd suggest one of these six models: magazine, newsletter, reference, software, periodical and membership. Then we'd explore what you're doing, and designate a set of Mequoda best practices that would be unique to your business.
Who are you? What does your business do?
Mequoda benchmark systems vary from publisher to publisher. You will not find two that are identical.
Our best practices are designed based on strategic needs. In outlining the best practices for your business, we set out to define who you are and what business you're in.
Some of these are technical best practices, like post frequency, the handling of metadata, sitemaps and running SEO campaigns. Some of these strategies are dynamic as they change due to external sources and audience preferences.
Our best practices do evolve when evidence – from our own research and that of Mequoda Gold Member Clients – shows effective tweaks to the strategies.
If you want an organized framework to discover how a Mequoda system could make you more tactical, join us in New York for the Mequoda Bootcamp.