"We've used the Mequoda Method to more than double our digital memberships," says Susan Laden, newest member of the Mequoda Multiplatform Publishing Hall of Fame.
The Mequoda Multiplatform Publishing Hall of Fame, founded in 2006 to recognize publishing executives at the top of their game, has now expanded to 13 members, with the induction of a new Mequoda Master at the annual Gold Member Summit last month.
With great pride I have awarded the title of Mequoda Master this year to Susan Laden, publisher of Biblical Archaeology Society, non-profit, non-denominational, educational organization, dedicated to educating people about biblical archaeology, founded in 1974 by Hershel Shanks.
Like all Mequoda Masters, Susan is a publisher who has not only mastered the Mequoda Method, she has leveraged it to become a rock star in the publishing world. What's more, she routinely helps others to learn the method and advance the art and science of multiplatform publishing.
From magazine to multiplatform publisher
The Biblical Archaeology Society is a very old prestigious organization and magazine brand (Biblical Archaeology) that, like most niche magazines, decided to go through the Mequoda transformation after seeing traditional direct mail and newsstand sources decline in sales over the past 5-10 years.
At the same time, they were finding that they had a huge international audience that they weren't previously reaching. So for them, going multiplatform wasn't just a way to add a massive footprint online, it was also a way to reach out beyond North America.
We first started working with Sue and her team back in 2006, and she became a Gold Member officially in October 2010.
With the launch of Bible History Daily on July 25, 2011, they welcomed an entirely new global audience online through their portal, and magazine website to sell a tablet edition, plus the subsequent launch of the BAS Library, an online archive including 40 years of Biblical Archaeology Review (1975 to present), 20 years of Bible Review (1985 to 2005 complete) and 8 years of Archaeology Odyssey (1998 to 2006 complete).
What's interesting about the online magazine library is that Sue and her team has gone through lot of effort to arrange the library by topic and collection. It's a lot like a museum in that they curated these collections of content that sometimes span magazine articles from BAR, but also include other titles that had historically been shuttered away. There's lectures and a real diversity in the types of content offered.
And not surprisingly, there's a level of formality around the content—a lot of readers are professionals in the field of archaeology, whether they're professors or explorers.  But there are also readers who simply want more than the Sunday School edition of the Bible, they want to learn the science behind the stories. If you hear any given religion's version of the Bible, you'll get different stories, so BAR offers a scientific perspective that's often controversial, but different from what you'd get from a religious organization.
Putting the Method into practice
If you're not impressed yet, you should know that this organization is not the Museum of Fine Arts in Boston, or the Smithsonian. This is a tightly staffed, niche publisher where a lot of hats are bing worn to do all the things they do across all platforms. Sue has less than 20 people on her team, and just two are dedicated specifically to Bible History Daily. But her web editor Robin Ngo in particular has been an asset over the past 2-3 years, and together they've achieved substantial growth rates.
In fact, we've never had another publisher win our Mequoda Rocket Award for growth, two years in a row, for 2013 and 2014 before being inducted into the Mequoda Multiplatform Publishing Hall of Fame for 2015.
The Mequoda Rocket Award, which premiered in 2009, honors the fastest growing website among Mequoda's Gold Member websites. As the name implies, the Rocket Award acknowledges online publishers who soar above their competition to position themselves at an admirable place in the online environment. The winner of the Rocket Award is the online publisher who experiences the greatest growth in online traffic throughout the year.
And although they didn't win the Rocket Award this year, they're still in the top five for system growth this year, and have done an impressive job taking their content and repurposing it. They're not just masters of content development and SEO, they have a tremendous following on social media, and Robin has done an excellent job at audience development in the realms of Twitter and Facebook to drive traffic back to the site.
Below shows their tremendous growth over the past several years since the relaunch of biblicalarchaeology.org and Bible History Daily and the percent its improved from year-end 2013 to year-end 2014.

Looking forward to another five years
In five years, Susan has turned her brand into a multiplatform publishing empire. Not only does she have a strong affinity content program on the web but she also has a multiplatform magazine, live events, an online library, and a series of DVDs. They've expanded their footprint, and their Bible History Daily portal powers it all—it's their largest source of new magazine subscriptions, event attendees, video and book sales.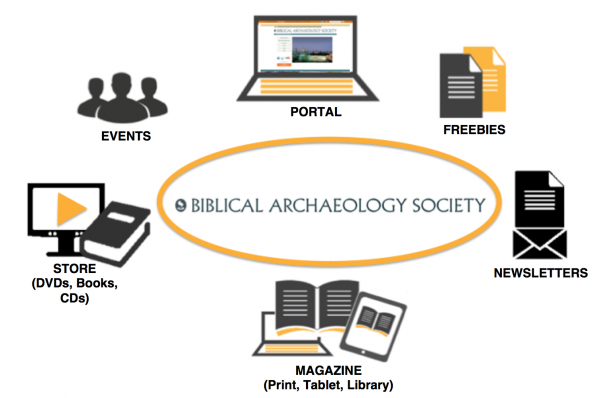 It's breathed new life into the entire organization, putting them on a growth path, instead of the slow decline they'd experienced for 5-10 years before going through the Mequoda transformation.
If you look at our list of Mequoda Masters, you'll find that Sue is the third master out of thirteen, who has pulled off her magic working for a non-profit organization. The Biblical Archaeology Society is a 501(c) 3 non-profit organization. However, it has no endowment and minimal fund raising and therefore must operate as a self-sustaining business.
The other nonprofit Mequoda Masters are Gail Odeneal at Harvard's Program on Negotiation and Charlie Spahr at the Ceramic Publications Company who are strong and running under the limitations of being a small non profit.
"I have been doing this since 1976 – 39 years. The fun for me is building a viable organization and growing it. Today that means the development of our web presence, an exciting place to be," says Sue.
If you're running a non-profit with a strong media component (books, videos, etc.), and you're looking for a mentor, Sue, Gail and Charlie are all excellent examples.