We're surrounded by a goldmine of creative video ideas in magazine publishing – which one will inspire you?
I sit here writing this as I just finished watching six videos in a row on Vogue's site, all 73-questions long, about celebrities I don't have an interest in, in a format that felt heavily scripted.
I don't know how I got here … maybe a Tweet, because I don't usually read celebrity news, but yet I watched, and I watched, and probably sat through a few subliminal ads, and right below the video, the entire time, is a link telling me to subscribe to the magazine. "Get the May issue on Amazon" it reads (clearly an older article from April).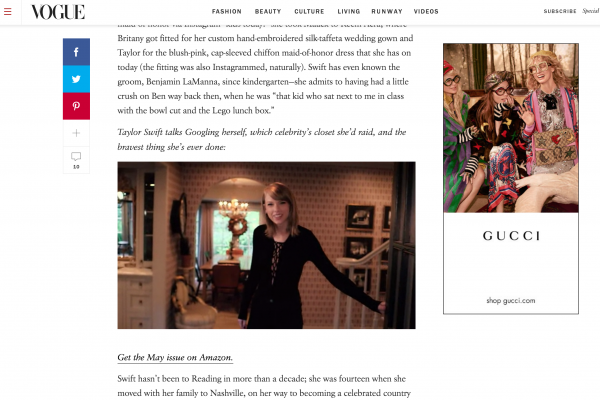 And I thought, dang, this is so good. These guys have kept me here for about an hour, despite my usual indifference to the subjects. I'm not a Vogue-subscribing kind of gal, I'm more of an Outside and Mother Earth News type, but dang again, what a great idea.
[text_ad]
The concept behind the 73 questions video is simple: The video starts when the interviewer knocks on a celebrity's door and they open. After about five questions they either ask a question that brings you into a new room, or the celebrity says "Let me show you around." There's usually food involved, like ordering a pizza (staged), or making a cocktail. 73 questions are asked in rapid succession and they feel highly rehearsed, but still interesting. Throughout the course of the video, you see just about every room in a house, or in the case of Nicole Kidman, her little farm.
I try to picture what the whole setup looks like. Is it really a guy behind a camera like it looks? Or is there a guy asking questions (or a voice over later?) and a camera man? Is there a choreographer pointing, telling the celebrity how to move next?
Regardless, Vogue kept my attention for almost an hour, with a glaring call to action in my field of vision the entire time, and I high-five them for this series. I challenge you to not get sucked into this:
Publishers making amazing videos for magazine marketing
One of the most beautiful uses of video I've seen came from National Geographic. In their first real tie between the magazine and video, they launched an article using a microsite. It was devoid of text, and paired with the current magazine issue. It was about a pride of lions in the Serengeti. As you scroll down the page, new videos begin. You can see the full page here.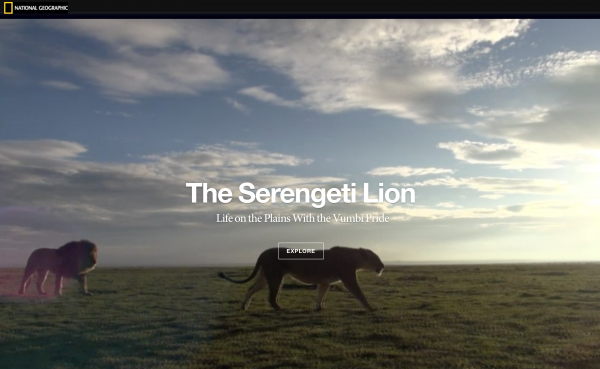 At the time, this was simply "extra content" they had. They didn't know what to do with it, so they put it online. "The website offered the story team a great opportunity to collaborate with our Web colleagues, and to use photographs and information that couldn't be included in the print story,"  Senior Editor Kathy Moran said at the time. "We simply didn't have the space [in the magazine]. On the Web, we could build out in very different ways."
And then … AND THEN, they released EVEN MORE footage from behind the scenes of these shots, on YouTube.
We're talking 2013 here. They've done a ton of amazing stuff since then, but their first foray into serious video recycling online has always been one of my favorite video stories. Content recycling at its finest.
In the past few years, publishers have really been digging their heels into the sands of video, especially video ads and native video advertising.
Elle Canada partnered with retailer Hudson's Bay last August to allow its readers to shop by way of video on their mobile devices.
Medium launched Foreword, an original series, featuring the videos on a dedicated page in addition to establishing outposts on YouTube and Facebook.
Condé Nast brands Vogue, Teen Vogue, GQ, Glamour, Allure, and Wired  launched digital video channels, while CNE (Conde Nast Entertainment) has produced shows for such channels as Investigation Discovery, Ovation, the CW, and SyFy.
Hearst and Revlon co-produced a 10-episode web video series called #GoBold after striking a deal worth a "healthy seven figures." The partnership also included print ads, digital displays, and social media placement.
And these types of video are working. In fact, according to eMarketer, video produced by publishers is one reason why the magazine industry is seeing growth. Year over year, "Video and mobile web visitors – those viewing the website on a mobile device using a browser, not an electronic reproduction – were the huge drivers of magazine audience growth, with respective increases of 41.8% and 76.8%."
Ten types of web video for publishers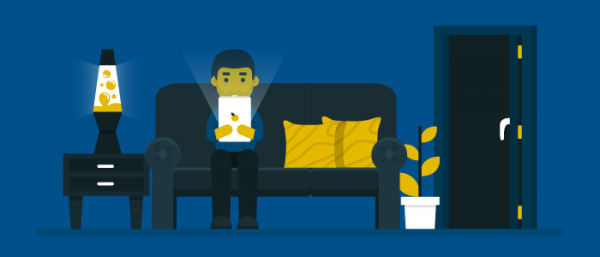 While National Geographic has the benefit of a large production outfit they use for TV, you might feel like they're unrelatable. And I agree. That's like asking me to produce 60 articles this week like I have the staff of The New Yorker. I don't, and you don't.
But there are less and more expensive ways to make videos that help sell magazines.
1. Skype interviews
$ – This is the least expensive video you can make. When you interview people for your magazine, use screenshare technology to record the video Skype interview. Make it a bonus for subscribers of your magazine when they read the issue, or use an excerpt as a teaser to the full interview in your magazine. That's what Vogue was doing, there was an entire article that went along with the 73-question video.
2. Quick, fun viral videos
$ – This type of web video shows a different side to your organization. Plus, you never know when something will actually go viral – which leads to a lot of brand visibility. All it takes is time and a smart phone. Use Facebook Live, Snapchat, Instagram, Vine, or all of the above.
3. Staff videos
$ – As another way to build relationships and show transparency, staff videos help show the public who your company is from the inside out. Goes into the bucket above. Easy, peasy, and plenty of networks to share with hungry, active users.
4. Simple digital magazine videos
$ – Since digital magazines allow you to add so much interactivity to their pages, some publishers are including them. For example, an article from Cosmo about how to tie a fishtail braid works better with a video from their style editor actually doing it. These can be very inexpensive. Heck, kids are getting famous on Instagram and Vine for videos like this.
5. Promotional videos
$$ – Go for it. Sales letters and pictures can help in selling a product, but they can only present so much. Videos aid in the sales process by showcasing a product or service and then turning into a story. Promotional videos are especially great for events, but they can also be great for teaching how-to advice in bite-sized ways. Get your smiley-est employee in front of the camera, too, to build a more one-to-one feeling.
6. Podcasts or video blogs
$$$ – Online publishers are accustomed to presenting content through the written word. To change the pace and reach additional readers on another level, video podcasts or video blogs can be used as a premium content format. If they're used as free content, get them transcribed so they get some SEO benefits.
7. Product demo videos
$$$ – More often than not, a publisher has more products than they know how to explain. If you are an online publisher with an arsenal of products, video demos might be a great solution in generating more revenue. Most potential buyers want to see how something works before they purchase it. Video is the savior in this process, as it is otherwise very difficult to provide demonstrations online without video. For example, you may be able to increase online magazine library sales by creating a demo of what your archive looks like once they submit their credit card information.
8. Testimonials
$$$$ – Video testimonials are great to shoot at live events. We do it at least twice a year at our events, which is why we have such a bunch of great attendees sharing the love on our events page. Start by finding someone willing to speak in front of the camera, and then capture their first-hand account of the event as it's completely fresh in their mind. These testimonials can be used as promotional materials for future events with similar topics. And it helps if you offer them a token of appreciation or enter them into a drawing. Our event video that captures testimonials took two-days to shoot over the course of the event, and a day or two to edit. Four days has sold a heck of a lot more in event seats than the cost to make it.
9. Video ads
$$$$ – Create your own video ads, or hire an agency to create the ads for you, but there are some great ideas out there. I love this video, "A Conference Call in Real Life," which keeps your attention and makes you chuckle all the way through, and then has a personal promotion for the Leadercast Live event at the end:
$ – Alternatively, video ads are totally free when you're being paid to create them by your advertisers, like many publishers are doing.
10. Mini series
$$$$$ – As we've seen in the industry, mini series are all the rage. They allow you to create a big budget marketing campaign under the label of content creation. That way if it doesn't stick, then it's a marketing flop, which is OK because that sort of thing happens. And if it succeeds, then you might be adding a whole new arm of content production to your publishing business.
The only reason why we didn't see a lot of video in the past isn't because consumers don't want it, it's because video can be expensive to produce. Production time between shooting, cutting, editing, and rendering of a 3-minute promotional video can take 20-40 hours of a professional's time. Shooting a whole conference and then editing it into a reel to promote the next year's event, for example, is a multi-step process, possibly with several cameras and equipment that goes into just the production.
Ten reasons to add video in digital magazines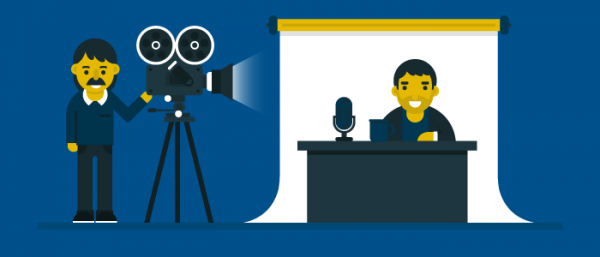 Something like a video series that is ongoing and only available in your digital magazine will keep people subscribed to watch the next episode from month to month.
50 percent of mobile data traffic currently comes from video, and you'd like to capture some of those eyeballs through your digital magazine on a platform like a tablet, where they already are.
It can improve the quality of the content you're publishing. For example, an article about the latest fashion braid can be improved with a how-to video.
Engagement with the content will improve. For example, reading an interview becomes more dynamic when you see a video of the interview being performed, or even the best clips from the interview.
Advertisers are latching on to video ads, and they're willing to spend a lot more on them (users like them too).
You can offset the cost of video production by finding advertisers to sponsor your videos (product placement or pre-roll).
You can build some brand personas with hosts that will further connect your brand with actual humans they can see.
The absolute best way to improve a recipe in a cooking magazine is with a video on how to make it.
It can be a lot easier than you think. For example, capturing a screenshare of a Skype call is a very simple and fast way to record an interview.
Video is recyclable, so later on you can add it to your YouTube channel and your Facebook page, and give it another wind.
Now it's your turn. What's the best video you've seen produced by a publisher? Let me know in the comments. Or, if you created one recently you'd like to share, post that below, too!
[text_ad]