Should your internet marketing system include earned media?
Email circulation and revenue per email subscriber are the two key metrics for every Mequoda Internet Marketing System. The first priority for system operators is building email circulation. The goal is to attract as many subscribers as possible to the free email newsletter and let the newsletter's content do the job of filtering the good from the bad. The key concept is that customers who signup and stay active subscribers are those most likely to buy paid information products.
Andrew Palmer, who runs eCommerce for The Daily Reckoning's Internet Marketing System, says that most subscribers who will become buyers, will make their first purchase within 90 days—many immediately during or after the process of subscribing to The Daily Reckoning. Palmer notes further that if a new Daily Reckoning subscriber has not clicked back to a website in The Daily Reckoning network within 180 days, they are unsubscribed. At an estimated $80 per subscriber per year, the 500,000 circulation Daily Reckoning has the highest revenue per email subscriber of any large-scale, consumer-based Mequoda Marketing System we've encountered.
While there are more than a dozen earned media sources that have been documented by the Mequoda Research Team to drive website traffic, build email circulation and sell information products, we'll focus on four for this report.
Basic Earned Media Sources for Building Email Circulation
Website Organic Conversion Architecture
Internal Print Media Merchandising
External Public Relations
Search Engine Optimization
The goal for each new subscriber acquisition program is to get a prospective email newsletter to the site, to a Rapid Conversion Landing Page, then thru the email opt-in process, and ideally to complete an Up Sell Order Flow for a paid information product.
Let's look at each of our four basic sources.
Website Organic Conversion Architecture
Online marketers have four powerful tools for converting website visitors to email newsletter subscribers:
OFINs or Order Forms in Navigation are added to the page template in the top, left or right navigation areas and driven from an advertising server.
OFIEs or Order Forms in Editorial are added to the main content areas displacing editorial content. They can be at the top, middle or bottom of the article and there may be several OFIEs in a longer story that repeat the same offer.
Floaters are interstitial layers that "float" on top of a website page obscuring some of the website content. The effect is similar to a magazine blow-in card. Floaters always generate the highest conversion rates of any form of conversion architecture we've tested.
Text Links are links in editorial or navigation that lead to a Rapid Conversion Landing Page and are the best form of persistent conversion architecture.
All of the above are entry points into the conversion flow. They may link to the Rapid Conversion Landing Page or to the first data collection page—depending on the amount of information the user has received about the offer.
Organic conversion architecture works in concert with all sources that drive website traffic to home, topic and article pages on a Mequoda Internet Hub.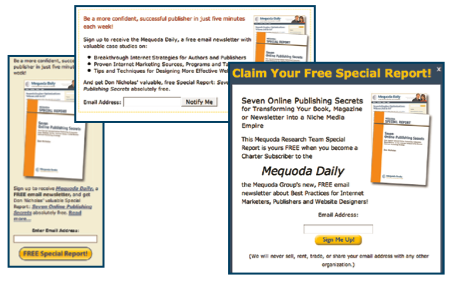 Internal Print Media Merchandising
Most Mequoda operators also publish a variety of print information products. These books, magazines, newsletters and reports present an ideal opportunity to drive targeted website traffic to a Mequoda Internet Hub.
The effort may be as simple as putting the URL on the cover or page footer and may be as complex as offering print buyers additional free information at the Internet Hub that is directly related to the product they have purchased.
Many Mequoda operators report success in converting as high as 35 percent of print buyers into free email newsletter subscribers. Not surprisingly, these subscribers have the highest average spending of any documented source of new email subscriber.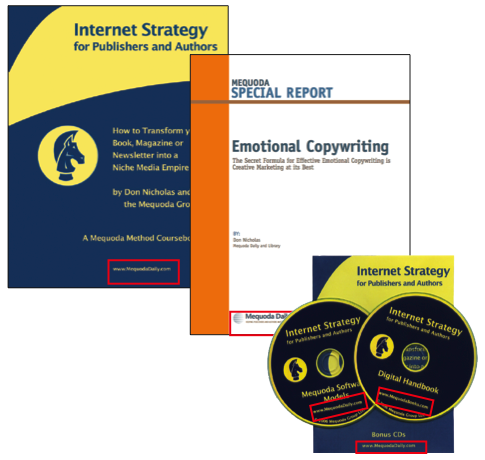 External Public Relations & Link Building
While this source can take many shapes, the basic program revolves around creating press coverage for a free report or other information product that is made available at the Mequoda Internet Hub via a Rapid Conversion Landing Page.
While a professional press kit is essential to the effort, building personal relationships with the editors that cover your subject matter is crucial to success. The quality of the information, newsworthiness of the topic and brand are also key ingredients to a successful earned media campaign.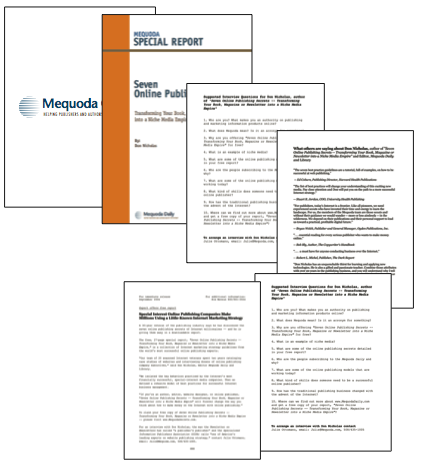 Search Engine Optimization
Organic search traffic can account for 12 to 18 percent of website visitors for a Mequoda Internet Hub and Network. Depending on your linking strategy, your topic pages and Rapid Conversion Landing Pages can both achieve high organic search engine rankings with Google, Yahoo! and MSN.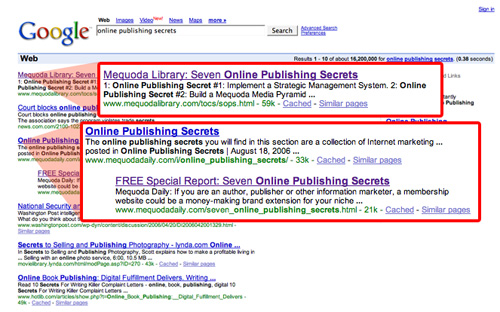 This article is just one in a very popular series called How to Start and Run an Effective Internet Marketing System. To read the rest of the series, see below: