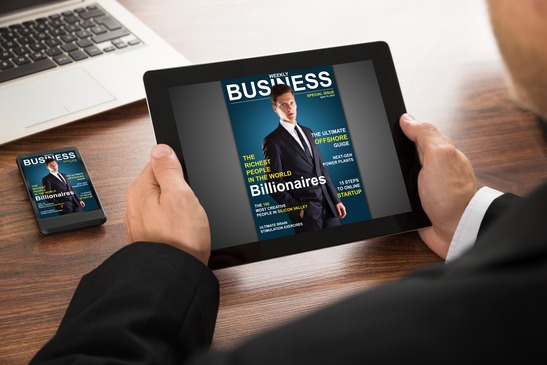 Creating an online magazine (also known as a web magazine) will look like a profitable piece of cake once you've digested these seven posts
It's never been a better time to be a publisher. It's so good that brands want to be publishers and have launched their own brand magazines. Some publishers have gone digital-only, but typically in the wake of financial crisis, while others surfaced back into print when revenues improved. There's not a competition between print and digital in our minds, we just think it's obvious you need a digital magazine.
And of the many types of digital magazines, we think every publisher needs an online magazine.
Learn the secrets behind today's most rapidly growing niche publishers. Download a FREE copy of How to Develop a Multiplatform Magazine Business Plan, and discover how large your magazine business could become and how much of an investment will be required to build your business to maturity.
Online magazines are available through a magazine subscription website. They're linear and periodic, have pages and regular frequency, and can be viewed in HTML on any desktop or mobile device—no app necessary because they're orchestrated as a mobile-first design.
They aren't coded as an "app", and they can't be bought in an app store or a newsstand. Instead, they're sold through the publisher's website, can benefit from contrast pricing, and the publisher keeps all the revenues.
Online magazines are, quite simply, magazines to be read online. They're interactive and experienced in a very similar way to print magazines: not skimmed through for headlines, but treated as a relaxing, time-worthy activity. We also sometimes call them web magazines, so don't fret if you hear us toss that term around too.
Mequoda's top 7 posts for creating an online magazine
Building on the definition above, it's best to know what an online magazine is and what it isn't. At Mequoda, we define widely known digital publishing terms very specifically. This helps us explain to our clients the advantages of, for example, digital-only magazine apps in comparison with an online magazine library archive. Clarity is essential for understanding, so this post is the best place to start. Keep reading.
You'd be surprised how, at the ground level, creating an online magazine is very similar to planning a print magazine. The essentials are the same, but the execution is significantly different. It all starts with creating an editorial calendar, then launching a prototype issue, and finally considering your marketing channels. The last step begins the process of thinking in digital terms, particularly where and how you plan on generating revenue. Keep reading.
Now we're getting closer to the specifics of creating an online magazine. We take you through the process of 5 easy steps, from defining your niche to developing an audience. Too many publishers today believe that transitioning to an online platform is simply cut and paste. If you're planning on only offering a PDF version of your print issues online, that may be true. But building a comprehensive web magazine takes much more strategic planning and effort. Keep reading.
If you want to do something right, you have to learn from the best. This case study gives prime examples of publishers who understand how to architect and monetize their content online. They focus on providing the user with the best interactive features available while strategically planning their pricing packages to convert visitors into buyers. Keep reading.
One of the main benefits of creating an online magazine is the use of a back issue library. Why, you ask? The library is made up of content that is completely free for you to use: you already own it. All those dusty issues piled in the stockroom are bursting at the seams with content you can repurpose at a low cost. Compiling all your issues into a library means extra leverage for visitors to subscribe and gain access. You can also recycle all that archived content into blog posts, white papers, newsletters, and more. Keep reading.
A magazine subscription website archetype is set up to build subscriptions for a related print or digital magazine and to provide access to issues of the magazine. A magazine website is only a magazine website if the user can view or download an issue of a magazine—one that is linear and periodic, has pages and a regular frequency, and can be viewed in HTML, downloaded as a PDF or downloaded to a mobile device. Keep reading.
This last post is included to emphasize the importance of utilizing every revenue channel an online magazine can offer. These newer models are proving to be exceptionally useful to digital publishers and deserve consideration for your soon-to-be online magazine. Advertorials are particularly unique because sponsored content is placed and aligned around or within the similar editorial content. Keep reading.
What are your thoughts about the future of digital publishing? Post your comments!