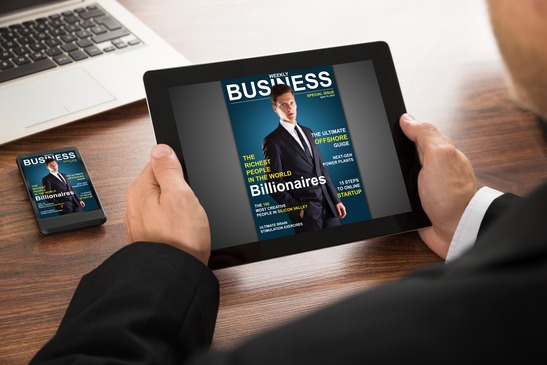 It's a good time to be a publisher. Brands have launched their own brand magazines, and many publishers have gone digital-only.  In our minds, there's not a competition between print and digital, more like an obvious need to create an online magazine from your legacy brand if you haven't already.
Online magazines are available through a magazine subscription website. They're linear and periodic, have pages and regular frequency, and can be viewed in HTML on any desktop or mobile device—no app necessary because they're orchestrated as a mobile-first design.
They aren't coded as an "app", and they can't be bought in an app store or a newsstand. Instead, they're sold through the publisher's website, can benefit from contrast pricing, and the publisher keeps all the revenues.
Online magazines are, quite simply, magazines to be read online. They're interactive and experienced in a very similar way to print magazines: not skimmed through for headlines, but treated as a relaxing, time-worthy activity. We also sometimes call them web magazines, so don't fret if you hear us toss that term around too.
Mequoda's top 12 posts for creating an online magazine
Building on the definition above, it's best to know what an online magazine is and what it isn't. At Mequoda, we define widely known digital publishing terms very specifically. This helps us explain to our clients the advantages of, for example, digital-only magazine apps in comparison with an online magazine library archive. Clarity is essential for understanding, so this post is the best place to start. Keep reading.
Starting an Online Magazine
You'd be surprised how, at the ground level, creating an online magazine is very similar to planning a print magazine. The essentials are the same, but the execution is significantly different. It all starts with creating an editorial calendar, then launching a prototype issue, and finally considering your marketing channels. The last step begins the process of thinking in digital terms, particularly where and how you plan on generating revenue. Keep reading.
Now we're getting closer to the specifics of creating an online magazine. We take you through the process of 5 easy steps, from defining your niche to developing an audience. Too many publishers today believe that transitioning to an online platform is simply cut and paste. If you're planning on only offering a PDF version of your print issues online, that may be true. But building a comprehensive web magazine takes much more strategic planning and effort. Keep reading.
We are always identifying the best characteristics of magazines we believe must be recognized in the digital magazine era. Given the newly-proven resilience of the medium, it behooves us to acknowledge the importance of these characteristics and identify how they must be translated into the perfect digital magazine template. Keep reading.
If you want to build a profitable digital magazine publishing system, build these five elements into your business plan and design. Keep reading.
Pricing an Online Magazine
To create a robust subscription product, online magazines should be paired with a digital archive and other extras, which can go for a premium price. Learn how to use the principles of economic behaviorism, contrast pricing, and Six Sigma marketing to maximize magazine membership revenue and renewals. Keep reading.
With a metered paywall, you can fulfill your bottom line while also pleasing readers. Your goal is to establish a sampling mentality. When the guy at the supermarket gives you a sample of cheese on a cracker, he's not trying to feed you dinner, he's trying to get you to buy cheese. So your question is how much access you need to give, in order to obtain a subscriber. Keep reading.
Online Magazine Teams
If a print publication truly wants to harness the full potential of digital publishing, online magazines are the creme de la creme. But it takes work–you have to put together a specific team to run it successfully. This team works directly with the print team, not as a neglected side project. Keep reading.
Creating Value for an Online Magazine
One of the main benefits of creating an online magazine is the use of a back issue library. Why, you ask? The library is made up of content that is completely free for you to use: you already own it. All those dusty issues piled in the stockroom are bursting at the seams with content you can repurpose at a low cost. Compiling all your issues into a library means extra leverage for visitors to subscribe and gain access. You can also recycle all that archived content into blog posts, white papers, newsletters, and more. Keep reading.
Making Money with Online Magazines
Because an amazing amount of work goes into producing each new issue of your digital magazine, promoting each issue should leverage the unique content included in that issue. We can spend hours researching and discussing the merits of the cover story topic and how it should be presented. Your digital magazine cover story thus becomes a nexus for promoting each new issue through all of the native online opportunities that abound. While there are time-tested protocols for promoting a new issue of the print magazine, web magazine promotion is conceptually similar and mechanically very different. Keep reading.
This post outlines five main ways to build an audience to sell new multiplatform membership programs. You can use free offers, use efficient call-to-action placements, use time-tested brand-building techniques, email-building techniques, and other types of traffic drivers. Keep reading.
Online Magazine Metrics
It's now possible to amass 20,000 premium members in three to five years in even the smallest consumer magazine niches—a feat that proved challenging when creating expensive and promotion-constrained app editions. That's why these seven digital magazine publishing metrics are focused on selling web magazines through your subscription website. Like all digital platforms, you must track the right data in order to know where to focus your efforts. Keep reading.
What are your thoughts about the future of digital publishing? Post your comments!
This article was originally written in 2015 and has been updated.