Digital publishing will continue to grow and secure our future as publishers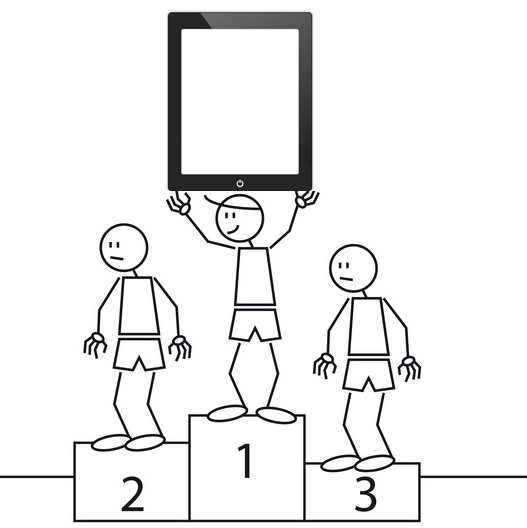 How often do you read something digitally? If you're reading this, then you've done it at least once today. I'm going to go out on a limb and say this isn't your first time.
When you walk around a shopping mall, or sit in a restaurant, notice that there are people all around you, tapping at their screens, their eyeballs assessing the information getting thrown at them as quickly as they ask for it.
If you're not producing content someone can read while they wait for their spouse in the store, or while they're casually ignoring a boring date, then what are you doing?
I know it's bad etiquette, but I don't make the rules. Witness half the 16- to 30-year-olds at a restaurant scroll the quick-tainment content of Reddit (acquired by Condé Nast in 2006). Reddit is a forum ecosystem of memes and animated gifs amongst intelligent debates and discoveries. That's one future of the publishing industry – micro content.
Feature content, well, that's where you come in. Think print is dead? Not yet, but think people won't pay for digital content? Wrong again.
[text_ad]
Publishers going digital
When the Times announced it's first 1 million digital-only subscribers back in 2013, they also said they had an additional 1.1 million print-and-digital subscribers, which brought the Old Gray Lady's total number to the highest in her 164-year history. To increase growth, subscriptions and engagement would be the focus of their effort, according to the Times. At the time, 12% of its audience generated 90% of its digital revenue.
"Many of our competitors focus primarily on attracting as many uniques as they can with a view to building an advertising-only business … We see our business as a subscription service first, which requires us to offer journalism and products worth paying for," a leaked internal memo said. The 12-page memo outlined a strategy to double digital revenue by 2020, to the tune of $800 million.
A recent report  from May (2018) in the NYT says that "The New York Times Company added 139,000 digital-only subscribers in the first quarter of 2018, a 25.5 percent increase from the same period a year ago."
"The company said that about 40,000 of the new subscribers came from digital products like the cooking and crossword apps."
For 2018, two years from their 2020 projections, this brings the company's total digital-only subscribers to roughly 2.8 million, accounting for $260 million in revenue. Their total revenue is about $414 million, making digital revenue nearly two-thirds of the company's total revenue.
We're so glad The Times  caught on, but the niche publishers we work with are no stranger to digital growth. Other sterling examples of profitable digital magazine publishing:
One legacy publisher took two magazines with decades of content and added in a new video subscription library to create a club concept that is now their best-selling product.
Biblical Archaeology Society discovered that in subscription marketing, when offered the option of choosing the web library, print edition or tablet edition individually, 65-70% of customers choose the higher-priced all-access pass, which is demonstrable proof that consumers appreciate the attributes of the different platforms when provided a rich content experience in different environments.
I Like Crochet learned a lot when this successful digital-only magazine publisher launched a premium subscription product on top of their free crochet websites, which give away thousands of free patterns. Curation was the key to sales, as the premium site offered the best designs from top designers first, with detailed video instruction, and the promise to provide only projects and patterns that have been thoroughly tested and curated. It's a terrific example of how to create a premium tier above your free content portal.
For the last few years we've heard abundant numbers of reports that magazine print subscriptions were down, but sales for digital magazines are up.
And really, we all know why. Every type of company is seeing their online sales increase. They're also watching their competition grow. A brick and mortar store with no website competes with Walmart.com, while  Walmart competes with an online-only store like Amazon. Everybody in all facets of business is racing toward the digital light. You're competing with work-from-home bloggers whether you like it or not.
And you don't need to be wearing your business hat to understand how this works. I'm always connected. My iPhone and iPad both keep me connected to the Internet 24/7. I have high-speed wi-fi at home and at work. And just in case I need a big screen when I'm traveling, I still carry a wifi card for my laptop.
I'm pretty sure most of my clients, who are digital publishers and marketers, are equally obsessed with being on the grid. At one point I thought about putting a wi-fi zone on our sailboat so I could be in touch even when I was at sea. Fortunately, I came to my senses and thought better of it. Sometimes a guy just needs to get off the grid. Except for my iPad, of course.
Does this sound like you? It sounded a little crazy five years ago, but it's already sounding familiar to everybody these days. Future-proofing your business starts now. The world won't wait for you to digitize your content, they'll just find similar articles somewhere else. Like I said, people get their information instantly when they search for it. They don't wait a month, a week, a day, or even an hour, they find a blog and they read it there.  And, you may say "but they'll keep coming to us because our content is better."  I have some bad news for you: unless it is MUCH better your readers won't care and convenience will gradually win out.
A new business cycle beginning
Historically, new technology empowers entrepreneurs to launch new types of products. Digital magazine publishing software like Mag+ and Adobe Digital Publishing Suite, for example. Combine it with hundreds of millions of tablets, and a handful of highly competitive digital newsstands, and you have the recipe for a digital magazine and book explosion. Develop a web magazine that doesn't rely on newsstands at all, where you keep 100% of the profits, and you're golden.
Ironically, many legacy publishers will miss the revolution.
If you currently publish a gardening magazine, you should be thinking about publishing magazines and books about individual types of flowers. If you currently publish on the topic of European travel, you should be thinking about individual titles that serve people passionate about specific countries, regions, and cities. If you publish on the topic of history or art, consider new titles that will focus on periods, persons, and movements.
There are literally hundreds of thousands of topics that currently generate more than 30 million English-language searches per year. Every one of those can be translated into a $1 million or more digital publishing business that can be started from a home office for less than $100,000.
It's often been said the technology giants don't fear each other as much as they fear two guys in a garage. In the new age of digital publishing, it will be said that publishing giants don't fear each other as much as they fear a couple of niche experts with an Internet connected home office.
This article was originally published in 2013 and is updated regularly.