Forbes Media is the repeat winner for OMI, with O and Martha Stewart Living excelling in multiple arenas
With the recent release of AAM's biannual circulation data, it's time to take a look not at circulation, but at the overall health of U.S. magazines' multiplatform publishing efforts. In Mequoda world, we have a little number we call the Online Media Index  (OMI) that measures just that, and the results are in.
OMI is calculated by dividing a website's average monthly unique visitor total by the associated magazine's total circulation. A high OMI is achieved by driving large numbers of unique visitors – though of course, declining circulation numbers could also boost an OMI, though not in a healthy way!
That's why the last time we ranked these magazines by their OMI, we declared Forbes.com to be the winner, based on its list-leading OMI of 11.27, which was achieved while Forbes' circulation grew slightly over the past three years, and its unique visitor count was rising steadily.
This time around, the Forbes.com OMI of 15.45 puts it in the #2 position, between two publications from mighty Time Inc., #1 Fortune and #3 Money. You'll notice that the OMI has risen dramatically, but it's not because of a tiny (0.14%) drop in circulation; it's because Forbes.com's monthly unique visitor count is still rising robustly, from 10,500,000 in the previous period to 14,400,000 in this one.
In short, despite being reliant upon a single publication, rather than an entire stable like Time Inc., Hearst, Meredith or Condé Nast, Forbes Media just keeps on performing on all cylinders, driving traffic in multitudes, building circulation, and publishing a largely Mequoda-compliant digital magazine while they're at it (though Forbes does not report its digital circulation separately to AAM, so we don't know how it stacks up to the Top 25 digital magazines we looked at on Tuesday).
Find out the CMS features that publishers require to manage an online publishing business. Download a FREE copy of 7 Ways Haven Wordpress Goes Beyond Wordpress, and discover the features all publishers should have access to for a bigger audience, greater revenue, and higher profits.
And it should be noted that its two main competitors on the Top 25 OMI list, Fortune and Money, are subdomains of a much larger portal, money.cnn.com, so they not only have much larger resources to drive their traffic, but the reporting sites that deliver unique visitor counts for researchers like us, Quantcast and Compete, only give us data for the cnn.money portal, and we don't actually know what the individual magazine websites have for unique visitors – assuredly a much lower number than that for the popular portal.
For that reason, it's safe to say Forbes.com is still winning the subscription website publishing wars. Its next nearest competitor, Food Network magazine, again has much greater resources driving traffic; after that, USmagazine.com is Forbes.com's closest genuine competitor in straight-up multiplatform magazine publishing.
But all is not sweetness and light for Forbes Media, despite its solid repeat performance. Let's take a look at the big picture.
In Mequoda's information architecture universe, Forbes.com is a portal, a profitable model on its own, and also intended to build and feed an audience for affiliated premium subscription websites. Portals are specifically designed for SEO, email marketing, list building, lead generation and building engagement and loyalty, and to maximize online advertising inventory. It's a Mequoda Best Practice to build a portal for every subscription website we create.
But Forbes' portal doesn't have any affiliated premium subscription websites, nor does it execute Mequoda Best Practices associated with all our websites: While it does offer registration which allows it to market its many multiplatform products to registered users, it doesn't promote that registration in any way. No floaters when you arrive, no free reports in exchange for an email address, no no banner ads, no OFIES (order form in editorial), no prominent links.
[Note: As practitioners of the Mequoda Method know the reason for attracting web traffic is to build an email list, and it is the monetization comes primarily through the emails – either selling paid content or sponsors/advertisers. Forbes is missing a real opportunity here.]
It doesn't even do much in the way of advertising: The home page boasts just two ads, and two to four on any given page seems to be the average, with lots of inventory going begging – that is, there's plenty of empty, non-revenue-producing white space.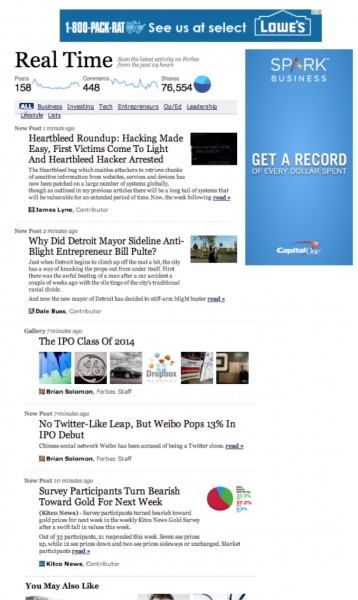 And now, of course, the company is up for sale, with a buyer – Chinese, Singaporean or German, according to rumors, but definitely not American – to be announced any day now.
The New York Times recently considered the state of the Forbes Media empire. "The entire category of business magazines has been punished, but Businessweek and Fortune have the benefit of being part of larger, more diversified enterprises, while Forbes has had to go it alone," noted media reporter David Carr.
"The magazine doubled down hard on a digital advertising strategy with a lot of click-bait headlines and opened its platform to thousands of contributors, improving traffic but diluting its brand. In the context of the current sale, some saw that strategy as more like lipstick on a pig, a bold effort that fails to hide the fundamental ugliness of the situation."
So while we celebrate Forbes Media for its deep commitment to multiplatform publishing – Mia Carbonell, SVP of Corporate Communications, told us last November that  "no platform has ever been considered less important than others" – it can't be considered a success from the Mequoda point of view, nor, apparently from the bottom-line point of view.
Find out the CMS features that publishers require to manage an online publishing business. Download a FREE copy of 7 Ways Haven Wordpress Goes Beyond Wordpress, and discover the features all publishers should have access to for a bigger audience, greater revenue, and higher profits.
Subscription website publishing Top 25 OMI list – a mixed bag
The Top 25 magazines ranked by OMI are all derived by calculating OMI for the Top 100 magazines by total circulation. Once again, we deleted magazines such as Game Informer and American Rifleman that are included free with an organization membership, and also magazines that have not reported their circulation from the July-December 2013 period.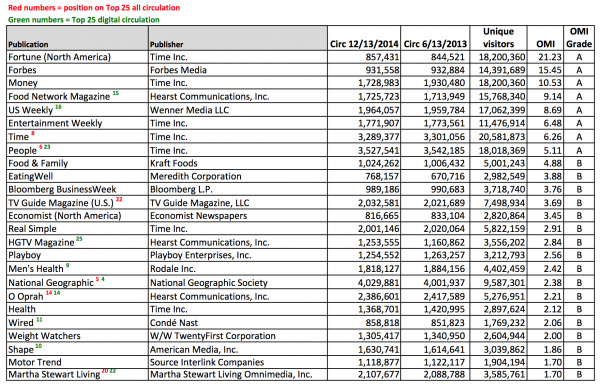 The list includes a similar mix to the Top 25 magazines by digital circulation: money/business, food, fitness, men's interest, women's interest, entertainment, lifestyle and news. Only WIRED, National Geographic and Motor Trend come from narrower niches.
And just to prove that almost no one is doing well across the entire publishing board, only five of these Top 25 come from the Top 25 overall circulation list, and only eight appear on our Top 25 digital circulation list.
Indeed, #1 digital circulation magazine Reader's Digest ranks a lowly 73d with its sad OMI of 0.29 (a D), while #5 Working Mother, which we noted appreciatively on Tuesday for outpacing many larger magazines with its digital circulation, is #82. And of those surprise digital winners from the unheralded American Media Inc., Star (digital #7) is 88th, and OK! (digital #6) isn't within the Top 100 for overall circulation, so it doesn't appear on the OMI list at all.
O The Oprah Magazine and Martha Stewart Living, by contrast, appear not only here on our Top 25 OMI list, but also on both the Top 25 digital and Top 25 overall circulation lists. These two magazines, while hovering near the bottom of the Top 25 anywhere, are clearly pursuing multiplatform publishing as vigorously as Forbes. It will be interesting to see in the next two weeks how O and MSL fare when we rank the magazines by the biggest growth in digital and total circulation, and in highest digital percent of total circulation.
The expected publishers are represented on this list, with seven subscription publishing websites from Time Inc., three from Hearst, and one each from Meredith, Rodale, Condé Nast and American Media Inc. – our surprise entrant from Tuesday's digital circulation survey.
This list does include more representatives of smaller publishing companies than did the digital circulation list, with TV Guide, Rolling Stone and Motor Trend making an appearance. And in terms of Mequoda's grading scale, we have 8 As (5.0 and higher) and 17 Bs (1-4.99).
This is a vast improvement from the last time we calculated OMIs, when Forbes and Food Network Magazine were the only two As. The competition is clearly heating up, too, because Top 25 OMI winners from the previous period such as ESPN the Magazine and People Stylewatch, while maintaining healthy OMIs in the B range, have been pushed off this Top 25 by newcomers.
But the improvement or decline of magazines by OMI is a subject for another post. Are you surprised by any of this? Why do you think Forbes is struggling financially when it clearly understands how to drive traffic to a healthy website? We'd be interested in hearing your theories on this conundrum in the comments below.