The 9 Most Profitable Subscription Website Business Models [+ Video]
By Kim Mateus • 06/04/2015
Coming up with the right business model for a successful subscription website is usually the biggest stumbling block for those wanting to get into this business.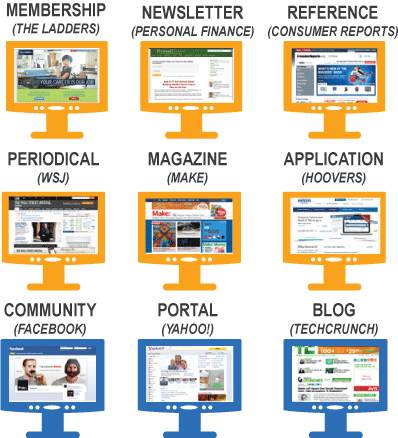 Choosing your content focus is a business-critical decision, as the focus you choose pretty much dictates your chances of success with a subscription website. However, more serious than the focus on content for a subscription website is the business model. Not considering the subscription website business model is a major mistake some publishers make.
Mequoda has identified nine discrete models for subscription websites. These include six premium (paid) models and three affinity (free) models. Two types are usually needed for success: a free portal, community, or blog to drive traffic, and a premium subscription website to use as a primary monetization medium.
Discover how to build a profitable subscription website when you download our FREE Subscription Website Publishing handbook today.
Premium (paid) subscription website models
Affinity (free) subscription website models
Having identified these nine subscription website business models, we have brief descriptions of them below, plus links to more detailed discussions as well. In addition, since we last updated this post, we've noticed more and more publishers putting together hybrid subscription websites, and we'll note a few of those.
#1. Membership Subscription Website
A membership subscription website archetype provides paid members with a library of information on a specific topic of interest or a cluster of topics and creates a community of individuals who share a common interest.
This model is user-driven and content-based. And unlike newsletter or magazine subscription websites, whose minimum information unit (MIU) is an issue of the publication, a membership subscription website is a destination in and of itself. Its business goal is to generate revenue from user-access fees by acquiring and retaining members; it accepts little or no advertising. The MIU is a profile of or content created by a person.
#2. Newsletter Subscription Website
A newsletter subscription website archetype is set up to build subscriptions for a related print or digital newsletter and to provide access to issues of the newsletter.
A newsletter subscription website is commerce-based, with an overall objective of increasing product sales and providing customer service to existing subscribers. The MIU is an article, and the primary product sold through the website is a single issue of the newsletter. The website is organized by the newsletter's issue date.
A newsletter subscription website generally has a free area, with content that focuses on the benefits of becoming a subscriber to the related publication, and conversion architecture where a visitor can buy a subscription. It also has a password-protected private area, where paid subscribers can view an HTML version of the current issue of the print or digital newsletter or download it in PDF format, as well as access and/or download back issues and other premium content.
Like all premium models, a newsletter website is typically paired with an affinity (free) model like a blog, portal or community which promotes the newsletter website. The newsletter website does not produce any free content, so the heavy lifting of SEO and social media is left up to their affinity site.
There are many successful newsletter subscription websites (not Mequoda Method compliant) that are not paired with their own affinity website, so they rely on paid media and content syndicated to other publishers' portals for their traffic sources. But an excellent example of this pairing of a newsletter with a free portal is Golf Odyssey, which is the quintessential newsletter website, and Golf Vacation Insider, which is the free blog that promotes it. Once you sign up from the blog site to be an "insider," you'll get promotions for the premium product, which lives at the newsletter site.
#3. Library Subscription Website (formerly Reference)
A library subscription website model allows paid subscribers continued access to a library of content that is updated constantly with new information.
Library subscription websites are the online replacement for printed reference books, print directories, catalogues, and loose-leaf binders that used to be updated quarterly or annually. For a library subscription website, however, the flow of new and updated information is constant. The paid subscriber can search or browse through the library of data to access the information or listings and find answers to questions. Library sites for consumers can cost as little as $20-$30. For B2B reference sites, the subscription can cost hundreds or thousands of dollars.
The MIU of a library subscription website may be an article or a book, report, document, lesson, or episode. It could be something as small as a baseball card factoid or as comprehensive as a training video. While simple sites may rely solely on HTML and PDF files, more robust sites also incorporate still photos, audio, and video into the MIU.
#4. Periodical Subscription Website
A periodical subscription website model offers regularly updated news content that is intended to be consumed online, primarily in HTML, rather than downloaded.
A periodical subscription website is an on-demand reference source that is experienced randomly and selectively—a filing and retrieval system that allows users to quickly locate the information they seek. Every page of every article is tagged with keywords, topics, authors, and dates in order to facilitate successful content retrieval.
The MIU of a periodical subscription website is a news article. Content is organized by topic.
Discover how to build a profitable subscription website when you download our FREE Subscription Website Publishing handbook today.
#5. Magazine Subscription Website
A magazine subscription website model is set up to sell subscriptions for a related print or digital magazine and to provide access to issues of the magazine.
A magazine website is only a magazine website if the user can view or download an issue of a magazine—one that is linear and periodic, has pages and a regular frequency, and can be viewed in HTML or downloaded as a PDF or other downloadable file format.. The MIU of the magazine subscription website is an article, and the website is organized by issue.
Magazine subscription websites are sometimes part of a hybrid site. Notably, Newyorker.com, might appear to be a portal, complete with free, regularly-updated content, but the magazine is indeed available as a complete issue. It's not a downloadable PDF, but it's a complete issue in HTML and its taxonomy is by issue, that is, date of publication, rather than by subject.
#6. Application Subscription Website
An application subscription website model allows access to specialized online software (an "app") that allows users to input information, use calculators and/or search a proprietary database, and access results.
Application subscription websites combine user data and publisher data to provide added value for the subscriber. The software application(s) on an application subscription website—similar to standalone applications that a user might buy and load onto a personal computer—is the MIU. Content at an application website is organized by search.
Hybrid versions of application subscription websites include Morningstar.com (one of the early stars among the multitude of online investment information sites) and WineSpectator.com. Both are reference websites, organized by subject. WineSpectator.com, like ConsumerReports.org, began life as a print magazine, which lives on today and is sold at the associated reference website.
Both Morningstar.com and WineSpectator.com have free content and forums, so their navigation bars lead the user to all that information, organized by category.
#7. Community Subscription Website
A community subscription website is a powerful networking tool that relies primarily on user-generated content.
Community subscription websites are used to create a setting where people with similar interests can use the virtual world to make real connections—whether purely social relationships or specifically B2B networks. It's the online version of meet and greet.
Members might decide to share via his or her member profile, forum posts, file uploads, links, and other data. Registration is typically required, and most communities do not require payment. The MIU, as with all three affinity subscription website models, is a post.
BabyCenter.com is an excellent example of a hybrid site that combines a blog, applications and an active community. Their community requires registration to post, but is free to view and read the discussion boards.
#8. Portal Subscription Website
A portal subscription website aggregates content from outside sources. Portals are intended to build and feed an audience; they are specifically designed for SEO, email marketing, list building, and lead generation.
Portal subscription websites generate value from both the users and the sponsors. Users pay—not with money (all website content is free) but with time and information. They spend time viewing web pages, emails and RSS feeds, thus creating advertising inventory that can be used to sell the publisher's products (internal advertising) and/or sold to third party sponsors (external advertising) on a CPM (cost per thousand), CPC (cost per click) or CPA (cost per action) basis.
The most well-known of the portal subscription websites is Yahoo.com– but it's actually more than just a portal. Yahoo is actually a huge collection of dozens of different kinds of websites, making it what we call a media website or a website network. But many Yahoo sites are indeed portals, and Yahoo itself is widely known as a portal.
Some portions of Yahoo.com are actually other archetypes, such as Yahoo Dating, which is a membership website.
A blog subscription website model blends publisher- and user-generated content that is updated frequently (daily, weekly, monthly) and consistently with articles posted by one or more authors and corresponding reader comments.
A blog subscription website is often (but not always) a personal platform, the product of a single author with a particular interest in or point of view on a specific subject. The articles or essays are brief—ideally no more than a single page—and reflect the author's personality. Readers who register become part of a community and are welcome to post comments.
On the other hand, blogs have evolved into something much larger than personal soapboxes. Publishers and other businesses have increasingly incorporated blogs into their online strategies as a method of getting messages out quickly and publicly, introducing a new product, sharing company news and information, and announcing upcoming events.
A Repeating Pattern
When you charge a fee to access the content within a subscription website, the site needs to provide specific and immediate benefits to your subscribers. The six premium models shown above are examples of exactly that. The three affinity subscription website models serve to build audiences of interested users who may become paying subscribers.
If all this seems too theoretical, please watch a version of our presentation on these business models as they apply to Phil Ash, publisher at InvestingDaily.com and BusinessManagementDaily.com, who's been through the process multiple times:
Of course, we know that information architecture is an incredibly complex and difficult subject to master, so please be sure to read the in-depth explanations of all these nine subscription website business models (which we've linked to from each of the subheads) when you have the time.  And don't hesitate to ask questions in the comments below.
Are you planning on building a subscription website? You can schedule a 30-minute needs analysis call with our CEO and Lead Consultant Don Nicholas to discuss the plans.
—–
Editor's note: Jane Zarem and Chris Sturk contributed content to this article, which has been updated many times from its original publication date in 2006 as new business models emerge.
Discover how to build a profitable subscription website when you download our FREE Subscription Website Publishing handbook today.
Related Posts
Posted in Subscription Website Publishing