These four exemplary digital magazine examples demonstrate best practices in design, business models and pricing
With 20% of tablet users reading digital magazines every day, it's instructive to take a closer look at the variety of digital magazine formats and subscription choices that are available to them five years after the iPad blasted onto the scene.
When WIRED went live with the world's first iPad magazine – a mere six weeks after the iPad's debut – it sold 24,000 copies in the first 24 hours. Today WIRED is still leading the pack in digital magazine innovation, at least according to Fastcolabs.com.
Fastcolabs points out that print publishers are still often constrained by what it calls their "legacy paradigms," and at the same time, digital-only publishers tend to borrow from print. Still, the website praises WIRED as first on its list of "Six iPad Magazines That Are Changing The Publishing Business," because its layouts are "smartly reimagined for the form factor, sporting just enough interactive bells and whistles without overdoing it," such as cross-linking related content from other issues.
That's a subjective opinion, of course, and there are so many different iterations of a digital magazine that it's truly hard to pick the "best" or "most advanced." But a few case studies of fundamentally different types of digital magazine examples – and how they try to serve the needs of all those new digital magazine readers – is instructive, if only to benchmark what looks radical now, given the way things have gone up to now, will no doubt appear quaint a year from now.
Consumers are telling us loud and clear what they want—are you listening? Download a copy of our 2018 Mequoda Magazine Consumer Study for FREE, to find out how you can improve your digital magazine rapport with subscribers.
Black Belt
The most basic format for digital editions is the straight replica, in which the print magazine content is digitized on tablet pages exactly as the print edition does it. The layout, advertising and content are exactly the same as the print version, no more or less, and each page, accessed by swiping horizontally, is identical to the print original. No interactive bells or whistles are included, and pure replicas are, unsurprisingly, becoming fewer every day as publishers move forward with tablet technology to satisfy reader expectations.
What Mequoda refers to as a replica-plus thus adds some interactive elements to the replica. This format is exemplified by Mequoda client Black Belt, from Active Interest Media. Black Belt launched its digital edition in 2012, developing the edition in-house, and when we last reviewed the app in 2013 it boasted a replica-plus format, with a seamless link back to its website. It also offered a handy, clickable advertiser index which we still haven't seen anywhere else, though AIM President & COO Andrew Clurman told us that all of his advertisers expect it.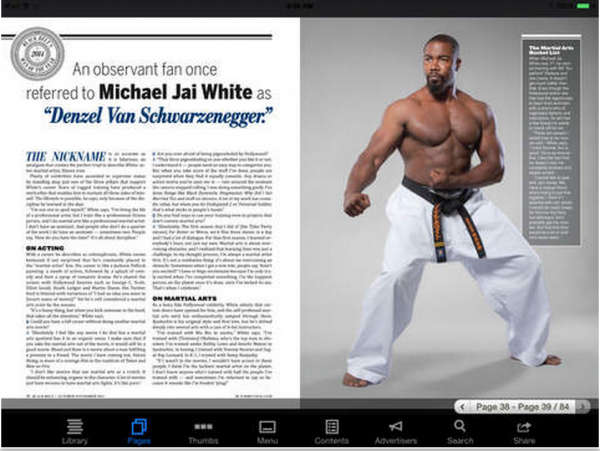 It also included an option to look at simple text that could even be enlarged, a simple way to make the content more reader-friendly for publishers who aren't ready to offer reflowed edition. There was even a seamless link to the Black Belt website available on every page. Black Belt has upped its game, with that Internet access now available for advertisers, its contributing writers, and companies mentioned in articles, all of whose blogs or websites are as readily accessible as Black Belt's own site.
Publishers creating their digital editions in-house, and those with limited resources, can adapt their print product to the replica or replica-plus format. However, the further the industry comes in time from the iPad debut, and the more advanced the technology becomes, the more readers demand from their digital magazines.
Meanwhile, Black Belt has a somewhat unique pricing structure, offering print subscriptions on its website and digital subscriptions only in the app. A reader can buy a one-month automatic renewal subscription or an annual subscription. There's no bundle, and no single copies for sale without signing up for the automatic monthly renewal.
I Like Crochet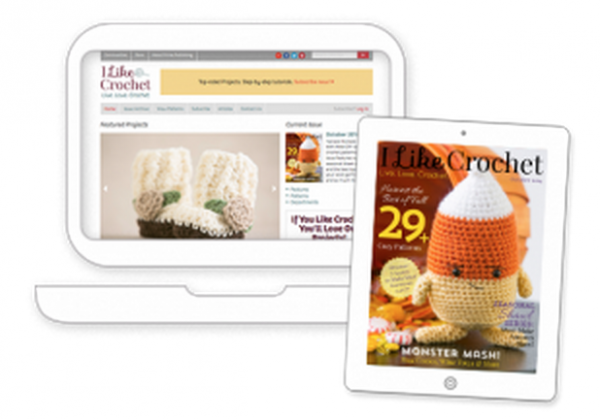 A far cry from simple replica versions of a print product comes from one of the new breed of digital-first publishers. I Like Crochet is a web magazine that was launched in August of 2014 by Mequoda client Prime Publishing, publisher of 17 free craft websites and 13 free cooking sites. It is the first magazine published by Prime. It's also what we at Mequoda believe is the magazine industry's first-ever true website magazine, along with an associated app edition for mobile reading.
Unlike traditional digital magazines such as Black Belt, I Like Crochet is available not just on the iPad, but as an actual issue on the web, delivering a linear magazine experience complete with a table of contents and page-by-page navigation.
Naturally, it's also enhanced via technology so readers can click to go directly to specific projects. And even more importantly, all content is also available in an actual library, so subscribers can search back issues for, say, afghan patterns, all with a few clicks. Access to a library is what sets it apart from most digital magazines, representing what Mequoda CEO Don Nicholas says "is out on the edge of discovery information architecture."
But it's not just the library that's making waves in digital magazine innovation. Because the magazine is available on the web, this library-enhanced digital edition is accessible on any device that consumers use to access the Internet, regardless of platform.
And that is truly revolutionary, not only for readers, but for publishers who don't have the vast resources required to create digital editions for every platform that different consumers use.
Says Nicholas, "It's the next generation of web magazine publishing."
Reading this next-generation digital magazine on the web is a gratifying experience. Unlike a portal, the I Like Crochet website is designed to be experienced exactly like a magazine. At a portal, the user generally arrives as the result of a question she wants answered. Once at the page her search for answers led her to, there are also related articles available by hyperlink that she may also read.
But having answered her question, the portal user is usually done with the website after only a few minutes. At Mequoda we think of this as an "instructional" or "how-to" experience.
But at I Like Crochet, a reader finds the issue date and a table of contents, and is invited to enjoy a linear "discovery" experience like any other magazine, in which there is a table of contents and she can navigate page by page (although without the page turning sound and graphics that make the flipbook magazines so user unfriendly), instead of by topic, to find out what's next.
Clicking to the first item on the list gets the reader right into the issue, and from that point, all she has to do is click on the title/arrow at the bottom of the page to go forward or backward one "page."
The reader can spend an hour or so with the I Like Crochet website magazine, just as she would with an app edition. But she can also access the pattern library to access all of the magazine's past content via search, which makes I Like Crochet exceptional.
And did you notice that we call I Like Crochet on a tablet an "app" edition?" That's because with this brand new format, readers can access the web edition on a tablet as well as on the web, rendering the phrase "tablet edition" meaningless. Mequoda will refer to all editions that can only be read on a tablet as app editions going forward, and will use the phrase "digital magazines" when referring to the entire family of electronic magazine products.
Because it's a Mequoda client, I Like Crochet is priced according to our Best Practice of decoy or contrast pricing. The app edition costs $19.97, the website edition is $29.97 and the bundle of both is a mere $34.97. This strategy is designed to drive customers to the highest price point because it looks like a great bargain in contrast to the two lower prices. This strategy also helps drive more orders overall.
LEDs Magazine
LEDs Magazine, a PDF digital magazine published by PennWell, is an 8X, controlled circulation information source for professionals in the LED (light-emitting diode) industry. Subscribers download their free issues of the magazine in PDF format, including the archives, from the magazine website, LEDsmagazine.com. Non-subscribers can access articles and other resources on the website. The PDF is viewable in a special browser.
Subscribers can also pay for a print subscription if they prefer, or access an app edition.The LEDs story is a prime example of advertising inventory maximization.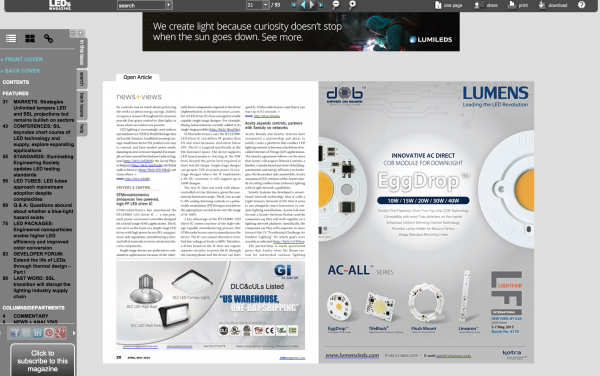 First, the app edition of the magazine is old-school replica, without a single technical enhancement other than the option to view articles as a page, identical to the print version, or as text only, which is more reader-friendly.
As a controlled circulation publication, of course, LEDs is reliant on advertising, and that it's got in spades. With a website, a print/PDF edition and an app edition, the advertising inventory is abundant. What's more, while the content is static, the ads boast plenty of technological bells and whistles.
As the LEDs 2015 media kit explains: "Each issue offers unique, effective, and measurable digital advertising opportunities such as cover sponsorships, announcement sponsorships, bellybands, blow-ins, and embedded video/audio as well as traditional advertising units.
"Users can click on the links in your ads, making it easier to respond to your call to action … Enhance your advertising message with unique ad positions not available in print."
Those unique ad positions include the digital bellyband, something we first spotted in Popular Science, which doesn't seem to have sold one lately. LEDs, however, had one from Cree in the September 2014 issue. That ad is clickable, leading to a web page where the user can download spec sheets for its various products.
If you're considering getting into interactive advertising, check out a free issue of LEDs to see the future!
The New Yorker
When it comes to pricing strategies, The New Yorker has a most peculiar one. There are three different offers – for print, app and combined – but all three cost the same. In addition, these subscriptions are offered only in three-month increments, which is a trend we're seeing more lately among the big players.
The idea behind this strategy is to lower resistance to the higher prices that weekly magazines have to charge, which is understandable – though we'd love to know the reasoning and/or testing behind the "one price fits all" strategy.
Meanwhile, The New Yorker has emerged as a contender after establishing a metered paywall of its own in November of 2014. Prior to this, all content – including archives back to 2007 – had been free for the reading since July. During the free period, which coincided with a redesign and relaunch of NewYorker.com, the magazine saw expected jumps in traffic and time spent reading.
But the real gains came after the wall went back up – a development that definitely wasn't expected.
"It wasn't a massive increase in readers between July and November. There was an increase, but there wasn't a massive increase," NewYorker.com editor Nicholas Thompson told Justin Ellis in a story for the Nieman Lab. "What's weird is we launched the paywall, and then there was a massive increase."
In January of 2015, NewYorker.com saw a 30% rise in unique visitors year-over-year, while subscriptions shot up a staggering 85%. The metered paywall cuts readers off at six stories.
The New Yorker is also notable in its skill at repurposing content across all of its platforms. The company recycles its magazine content across many different platforms: web, email, videos, audio, issue archives, cartoon archives, merchandise, events and apps. While repurposing content is a Mequoda Best Practice, we rarely see such a large organization able to pull it off this well, making it an interesting case study for all multiplatform publishers.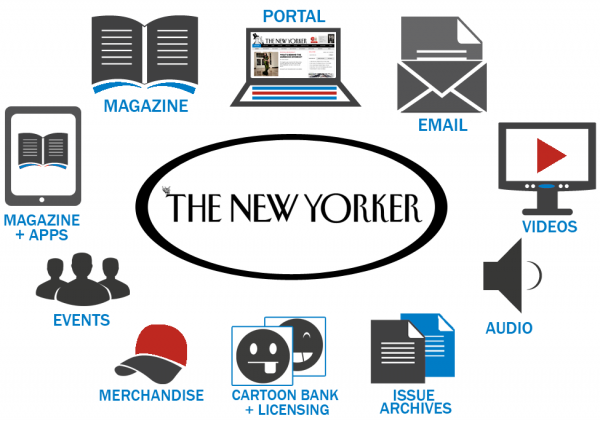 All four of these publishers have radically different digital formats and pricing strategies – demonstrating that digital publishing is still in its infancy, four years after the iPad crashed the publishing party.